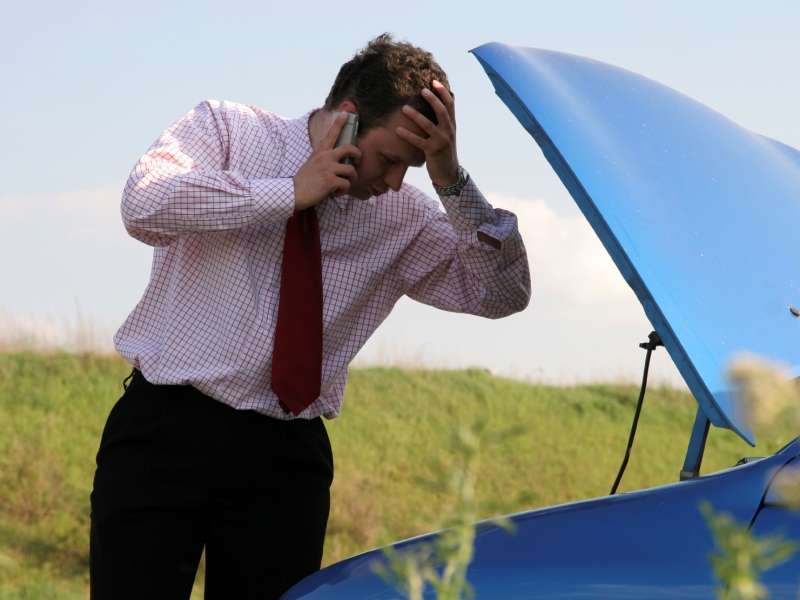 How to pack a car emergency kit will depend on your location and driving habits. Before putting an item into your kit consider what kind of driving you do to determine if it makes sense. If you pack everything listed in this article you should have one of the most complete roadside emergency kits around.
Every car should have some essential items in a location easily accessible to the driver. Have some water (in a plastic container if you live in a cold environment so that it won't crack and split open if it freezes) and non-perishable food (chocolate, granola or fruit bars, nuts, etc.) in case you get stranded or just peckish, a first aid kit to treat any injuries and a window breaking tool and seat belt cutter to make it easier to escape the car if you need to get out quickly. Pack a fire extinguisher to put out any small fires, and a flashlight and extra batteries to help see if it's dark. Keep some spare change around for tolls, parking, and coffee, and a pencil or pen and paper for taking down notes or starting a fire.
There are other important items to keep with you that can be kept in the trunk. Have a few road flares or reflective triangles to warn oncoming traffic of your stopped vehicle. Get some jumper cables to help get your car running again in case the battery dies, a tire gauge so you can regularly check your tire's air pressures, and a tire pump so you can keep them properly inflated. Pack some tire sealant in case you can't change a flat. While you're at it check to make sure your spare tire is properly inflated and ensure that your jack works properly.
If you travel long distances or in rural areas there are some additional items to consider packing. A jumper box will help in case your battery dies when no one else is around. A spare fan belt and fluids (antifreeze, oil, transmission, brake, windshield washer) will get you back on the road in case of a minor mechanical fault while spare fuses and bulbs could resolve a minor electrical fault. A whistle can be used to signal for help.
If you travel in cold or snowy environments you should pack for the weather. A blanket, gloves, knit cap, and extra clothes will help you stay warm. A candle in a can and waterproof matches will provide extra heat and light (but be sure to open a window to allow some fresh air to enter the car). A shovel and sand, gravel, or non-clumping cat litter will help get you unstuck. A window scraper, snow brush, and a spray bottle filled with windshield washer fluid will help keep your windows clear.
No matter what items you pack ensure that they are secure. If you do get into an accident, you don't want to be injured by part of your car emergency kit. Also make sure to regularly check the status of your kit and replace any missing items.