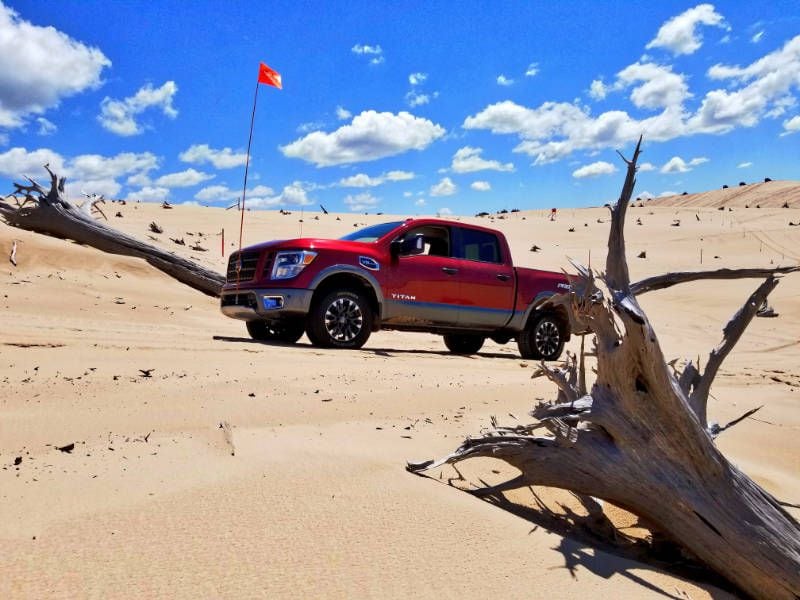 2017 Nissan Titan PRO 4X off road sand dunes hero ・ Photo by Chad Kirchner
Unlike other methods of performance driving, going off-road is an activity that's relatively easy to get into, but can be just as dangerous as lapping a race track. Sure, you can take your crossover through a muddy field and call it off-roading, but what we're referring to is taking your vehicle to an off-road park or some dunes and pushing the capabilities of the vehicle, and your driving skills, to the limit.
Off-roading for the first time can be quite intimidating, but it's also rewarding and a lot of fun when done safely. 
We took a 2017 Nissan Titan PRO-4X half-ton pickup truck to the Silver Lake Sand Dunes in Mears, Michigan to show you some tips for off-roading safely.
Phone a Friend
Before you head out on any off-road adventure, there's some preparation that you should do. We'll cover all the things you should pack and take with you, but you should do something before all of that.
First, tell someone where you're going and what time you plan on being home.
While it might sound silly, if you are off-roading somewhere where there's not a lot of people, and something goes wrong, it might be a long time before someone finds you. If a friend or family member knows you're missing early, you get rescued sooner. A simple text or phone call is extra insurance for when you head out.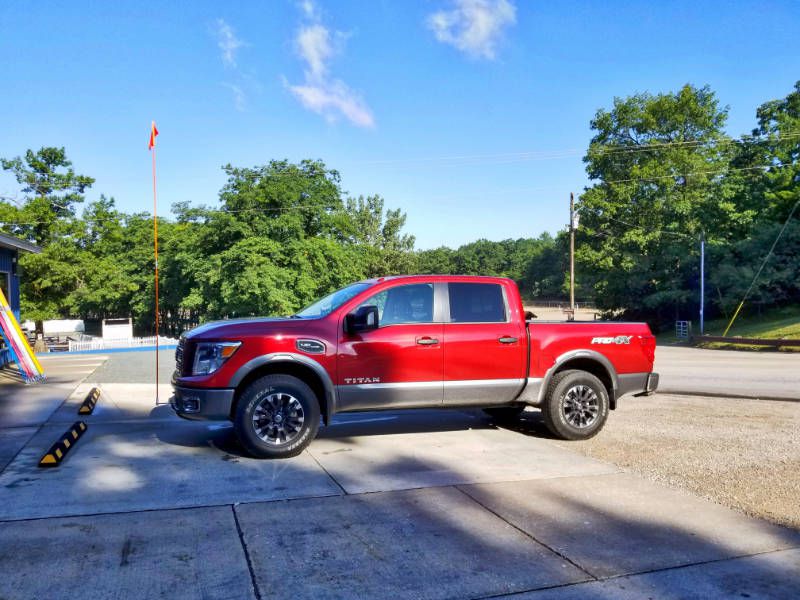 Photo by Chad Kirchner
Bring a Guide
Since it's your first time heading off-road, make sure you also recruit a friend to come along as a spotter. If the person knows the area, that's even better. You'll appreciate having a guide that helps you stay out of trouble, and when things get difficult, having a spotter who can hop out of the vehicle and guide you down the path, over some rocks, or the right angle of attack up a dune helps keep you and the vehicle safe and undamaged.
Even though we're experienced off-roaders, we asked our contact at Nissan to come along since he's familiar with the sand dunes and it was our first time there. Never be afraid to ask for guidance. From our experience people who enjoy off-roading love sharing the hobby with beginners.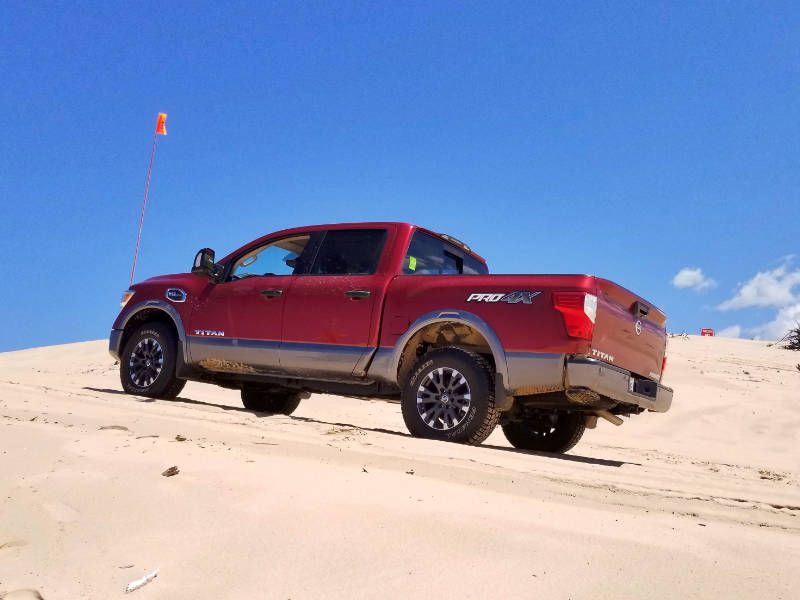 Photo by Chad Kirchner
You Don't Need a Raptor or Jeep
It's easy to get into your mind that the only way to have fun off-roading is to have something like Ford's Raptor pickup truck or a Jeep Wrangler with locking differentials and rock rails. Sure, those make it easier, but most people don't realize how capable their four-wheel drive vehicle is.
Our PRO-4X Titan isn't known as a dune monster, but skid plates and a good set of tires go a long way in any terrain. As long as you don't get too ambitious, you won't damage the equipment, and your spotter can help you with the tricky stuff.
You might be surprised at how capable the vehicle if your garage is out in the wilderness.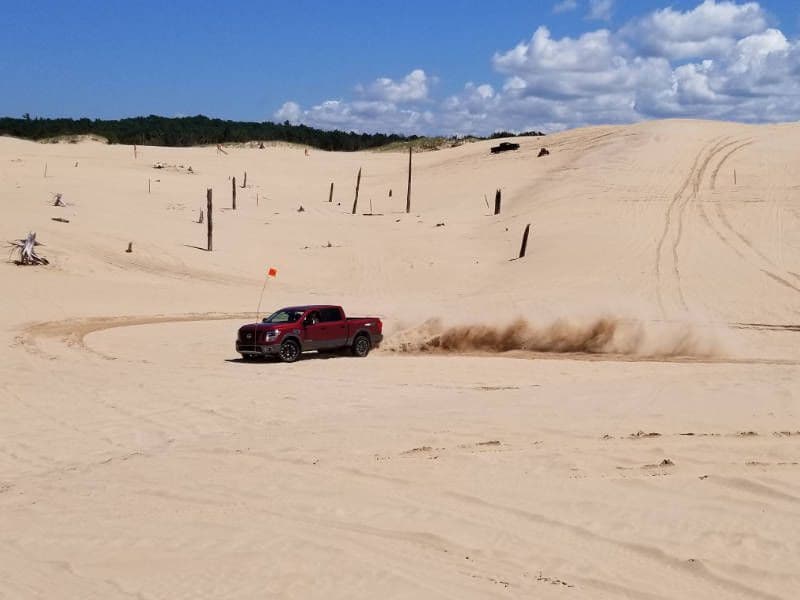 Photo by Chad Kirchner
Pack the Right Equipment
Regardless of where you're going off-road, make sure you bring a cell phone with you and an extra battery pack. Additionally, if you have a two-way radio or walkie-talkie, it wouldn't hurt to have that handy.
Pack snacks that help keep your energy up. It can be taxing on both mind and body so you'll want plenty of energy. You'll be surprised at how hungry you get just by driving your car.
Also, plenty of water is a must. Staying hydrated is important to stay alert, plus if something were to happen, you want to be able to survive for a bit until help arrives.
A good set of tow straps is also useful. You can pick up some at a local auto parts store for a few bucks. Most can support 10,000 pounds or more, so you'll be good for almost any vehicle.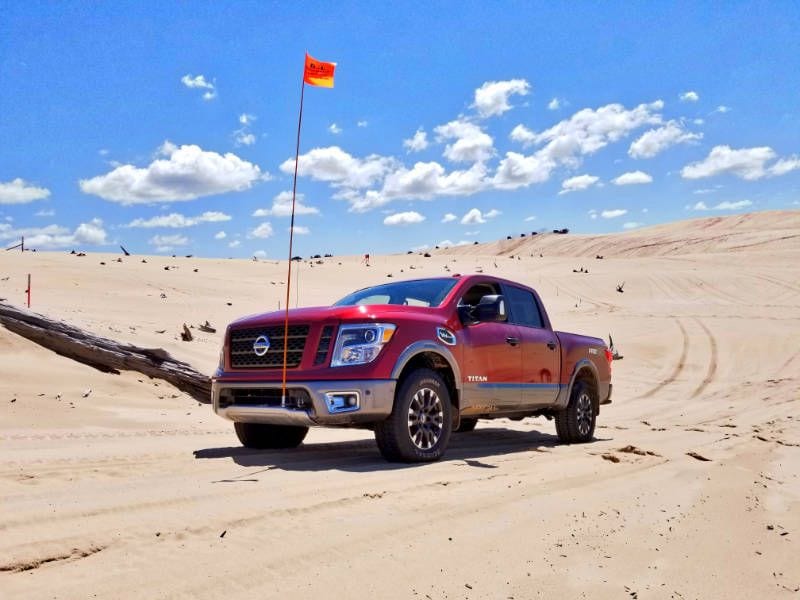 Photo by Chad Kirchner
Prepare for Sand
Going to the dunes requires some specific tools that you should probably always carry with you.
A good tire pressure gauge is important because at Silver Lake, and many other recreational dunes, they require you to air down your tires to 15-18 psi. That means you'll have to take a lot of air out of your tires.
When you're done at the end of the day, you'll have to put the air back in. Again, the tire gauge is important.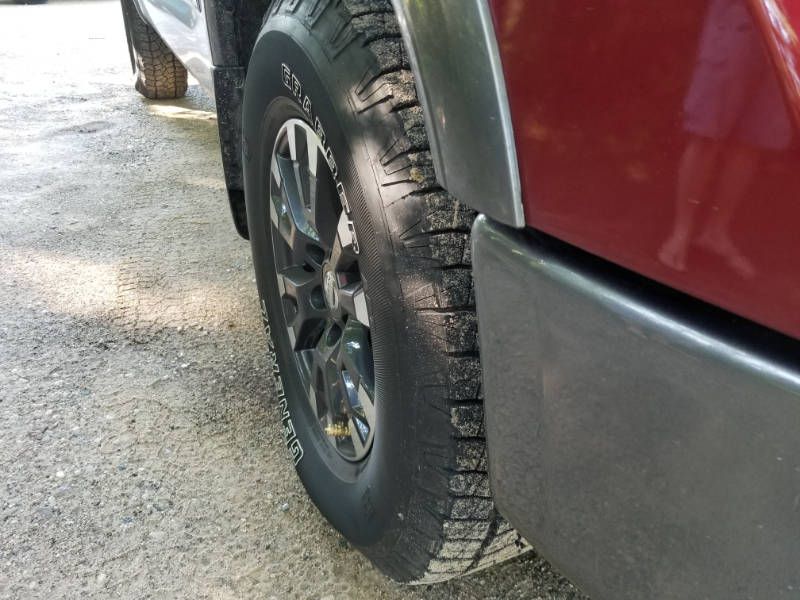 Photo by Chad Kirchner
Start Slow and Easy
Once you get off-road, start small. Attack hills and trails that are easy to help build up confidence and learn the limitations of the 4x4 and your talent. Hitting the big dune straight away is a recipe for rolling the vehicle, or at the very least getting stuck.
Some places charge a recovery fee, and it's money you won't have to spend if you start right and work up.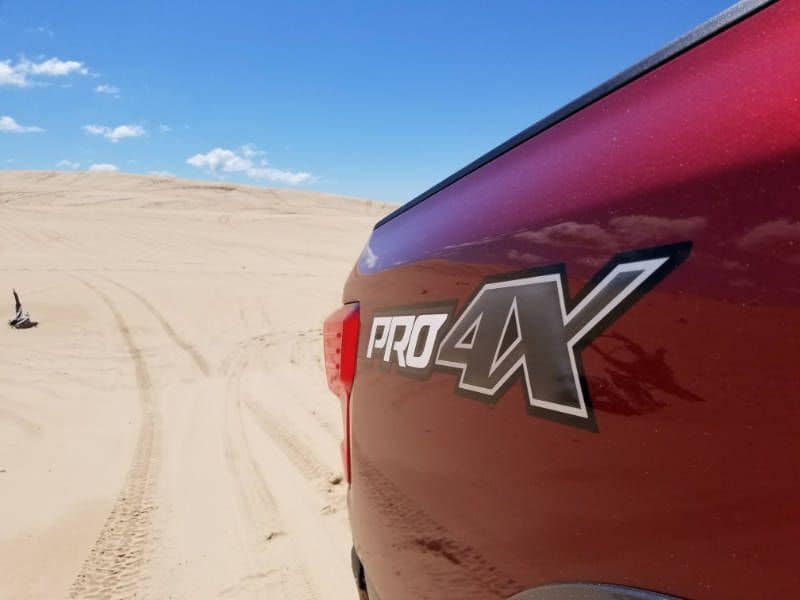 Photo by Chad Kirchner
Keep it Straight
Going up hills it's important to attack them as straight as possible. If you can't make it up the hill the vehicle will just roll back down straight. Just put it in reverse and you're good to go.
But if you're sideways on the hill, reversing might not be an option. Also, if you do lose traction and you're at an angle, the risk of rolling the truck becomes much more significant.
The same applies for going down a hill. It's easier to maintain control if you are following a straight trajectory to the bottom of the hill. Depending on the hill you might pick up some speed, so a sudden jerk of the wheel can easily cause your truck to flip.
Photo by Chad Kirchner
Watch Out for Water
Puddles on an off-road course are common, but you must be careful before fording through them. Some off-road parks have printed guides that label depth, and knowing the water fording capable of the vehicle is necessary. But where we were, that wasn't an option.
Until you figure out depth, drive to the side of puddles and keep one side of the vehicle out of the water. That way you get the cool splash without getting in so deep to get into trouble.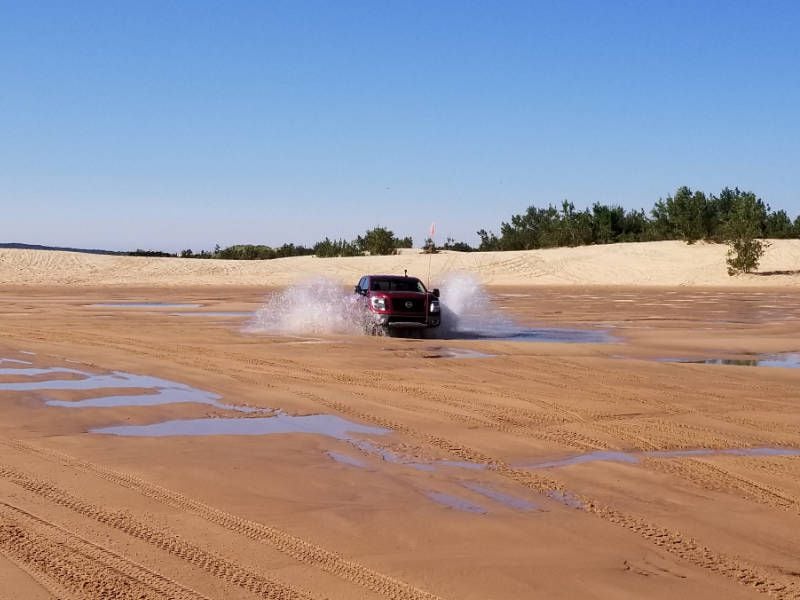 Photo by Chad Kirchner
Use the Vehicle's Technology
If your vehicle has an off-road mode, use it. If it has a Terrain Management system, select the type of stuff you're on – sand for sand, rocks for rock crawling. If you don't have anything that fancy, just make sure it's in four-wheel drive (4-HI) and turn off the traction control. Unsure of what feature does what? Head online for some research or look in the owner's manual.
You don't need the fancy modes to go off-roading, but turning off traction control lets your wheels slip, which is important on the sand.
Many trucks and SUVs also have Hill Descent Control. This automatically brakes for you when going down a hill so you can focus on keeping the truck steered straight. We find it an incredibly useful feature and you should check your manual to see if you have it and how to use it safely.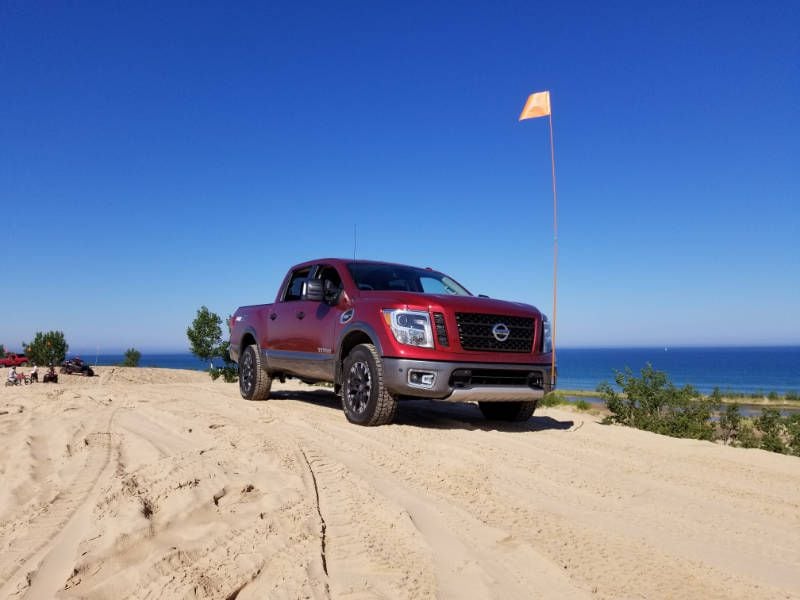 Photo by Chad Kirchner
Have Fun!
While the prep work is important to off-roading safely, don't lose sight of why you're going out there in the first place - to have fun! Start with the easy hills and trails first, then work up to the more challenging stuff. With a good spotter and the skills you learned quickly on the easy stuff you'll soon be attacking the challenging stuff. You'll be enjoying yourself and won't be worrying about safety or damaging equipment.
After having a fun and safe day out you'll probably want to go again, and you'll be prepared for anything the outdoors has to throw at you. You might even enjoy it so much that you want to add more parts and bits to your off-road vehicle to make it more capable. You might want to hide your credit card for awhile after your trip off-road!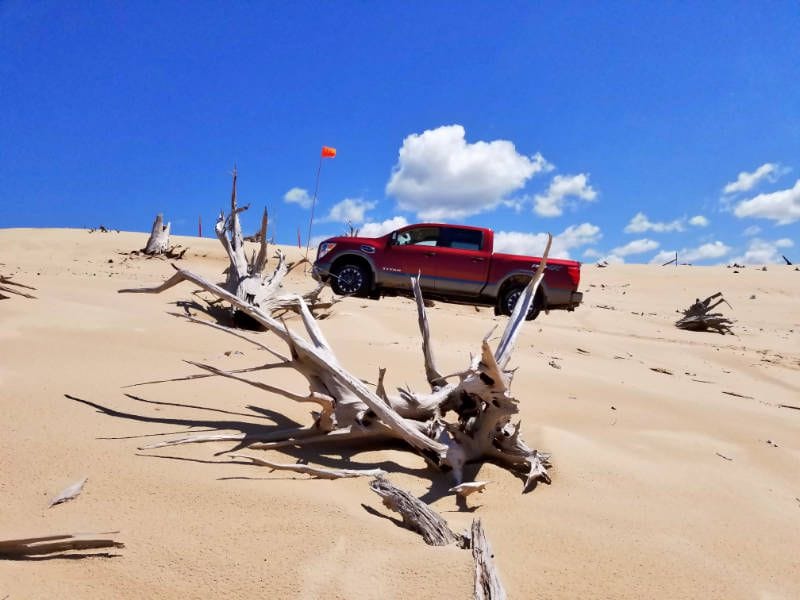 Photo by Chad Kirchner