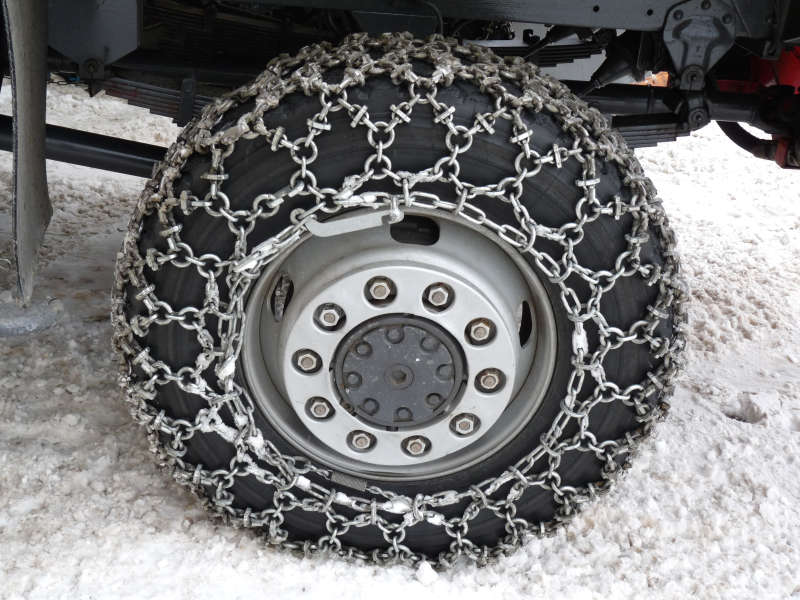 If you live in a mountainous area knowing how to install tire chains is essential. It's best to practice installing the chains on a warm day before you need to use them to ensure that they will properly fit your car. When installing chains make sure that you are well off the road (especially since visibility and traction may be extremely low) and that your vehicle is on a flat stable piece of ground. It's much easier to install chains before you get stuck rather than after.
Tire chains should be installed on the drive axle. Front wheel drive vehicles should have the chains installed on the front axle, while rear wheel drive vehicles should have the chains installed on the rear axle. If you have a four wheel drive vehicle it's best to have a set of chains installed on each axle.
These instructions are for classic tire chains. For newer or more modern chains the basic idea should be the same, but follow the instructions provided with the chains.
To install the chains lay them out on the ground ensuring that there are no twist in the chain and that the chain hooks are facing away from the tire. Depending on the chains' design one of the chains may need to be installed in the reverse orientation so that the outside hooks (normally the larger more complicated looking ones) are on the outside of the tire. Drive about a third of the way on to the chains being careful to ensure that you don't drive over (and possibly damage) the fastening devices or hooks. Connect the hooks as tightly as possible, starting on the inside of the tire (closest to the middle of the vehicle) first, followed by the outside hooks. The cross chains should be parallel to each other, otherwise the chain may be twisted or one side is much tighter than the other. Drive one or two vehicle lengths which should allow the chains to align themselves and then re-tighten.
In most cases you should never drive on a bare road or faster than 30 miles per hour with chains as this could damage them. Never drive with a damaged chain as parts of the chains can come apart and cause damage to your tires, fenders, or to bystanders.