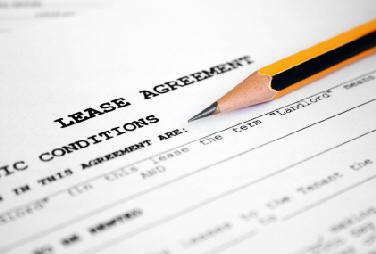 When you lease a car, you're responsible for insuring that car during the term of the lease. You are required to carry liability insurance to cover potential injuries and damage to other people's property by law. You are also required to carry insurance to protect the car by the terms of the lease agreement.
The leasing company needs to protect its investment in the car, so they will require you to carry both comprehensive and collision insurance to repair or replace the vehicle in the event of an accident. Collision insurance covers crash damage, and comprehensive insurance protects against perils like fire, flood, hail, and theft.
The lease contract usually specifies the maximum deductible for collision and comprehensive coverage. The deductible is a co-payment that you make when there's a claim. Deductibles are designed to cut down on frivolous claims, so having a higher deductible often yields a lower premium payment. However, if your deductible is too high, you might not be able to afford a repair. That's why the lease company may specify the deductible for you.
Beyond that, the leasing company may require you to carry more liability insurance than the minimum your state law requires. This is required to protect your income and ability to continue making payments on the car in the event you have an accident.
Comprehensive and collision insurance does not typically cover the complete replacement cost of any vehicle. Those policies usually reimburse the car's current cash value. To make up the difference, you need gap insurance. Many leasing contracts require this policy to protect their interest in the vehicle.
Some lease agreements include gap insurance as part of your regular lease payment. Be sure to ask if this is the case, because you might be able to save some money. Just remember that gap insurance does not cover your comprehensive or collision deductibles. You might still have to pay some money if there's an accident.
When you sign up for insurance on your leased car, you must specify the leasing company as an "additional insured" party. This gives the leasing company the right to be involved in the claims process and protects them from liability lawsuits.
The lease company will also be specified as the "loss payee" in the event of a claim. That's because you don't own a leased vehicle. The lease company is just renting it to you on a long-term basis. If there's a crash, the lease company gets all the money.
Lease insurance is not very different from regular car insurance. In most cases you can use your regular car insurance company. You just have to tell them that the car is a lease, and you should have the insurance requirements handy. In fact, with most leases you cannot take possession of the car until the insurance is arranged and certified through the dealer.
Starting a lease is a perfect time to shop around for good rates. It's a good idea to call several different insurance companies for quotes before you finalize your lease.
Several automakers are now offering subscription services in addition to traditional sale and lease options. With a subscription service, you get the vehicle you want, and you pay the automaker a flat monthly fee. That fee covers the use of the vehicle, all scheduled maintenance, and complete insurance. The only thing you have to pay for separately is gas.
Subscription services simplify the process of paying for your car. The monthly payment is higher than a lease or purchase, but you never have to worry about finding or maintaining insurance. If anything happens to the car during the subscription period, it's covered and you'll get another vehicle. Also, some subscription services allow you to get a new car at certain intervals. Ask your dealer if subscription is available for the vehicle you want.