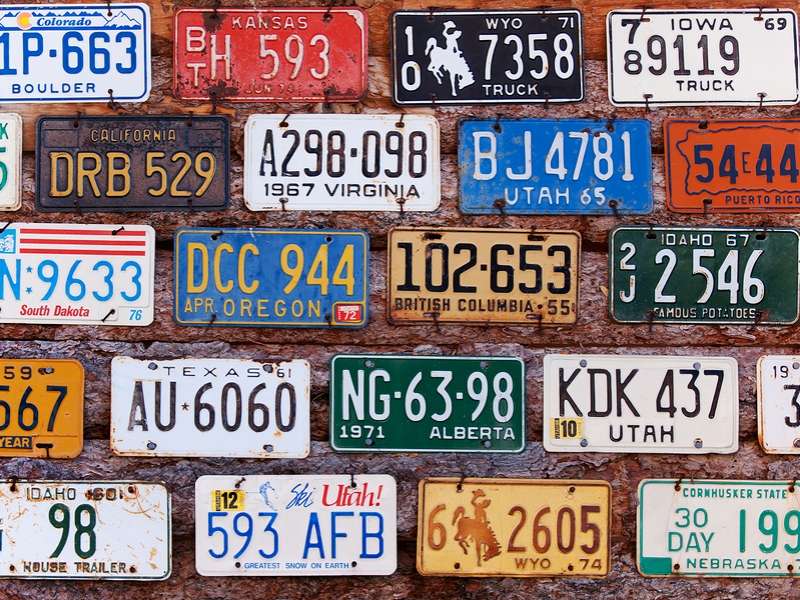 Got an idea for a catchy something-something you want to proclaim from the license plate of your car? Looking to add another layer of customization to your ride? A personalized license plate may well be the way to go. Every state offers them, as the governing bodies have figured out it's a good way to derive additional revenue.
If you want your license plate to say "My Car" and nobody else has it in your state, you can do it, as long as you're ready to part with some of "Your Cash". Typically it 's a fee in addition to the regular annual registration/usage fees applied to your car. The price and the process for acquiring one varies state by state, with some states even holding auctions for very popular ones like say "Ferrari", or the name of the local football team.
Once you have the personalized (or vanity) plate, you will usually also have to pay an additional fee to renew it—whenever you renew the registration for the vehicle it is attached to. There are restrictions in terms of the number of characters the plate can contain, and of course attempts at profanity, hate-oriented language, and other untoward sayings are by and large thwarted.
Many states also offer special interest plates; say you're a WWII veteran, or you want to save whales, or have a particular appreciation for a national park. A portion of the fees collected for these plates will go toward supporting the causes they reflect.
While there are many similarities, each state has specific criteria, visit the website for your state's DMV for the particulars applicable in your part of the country.
You'll find a link to each state's DMV on the next page.
How To Get A Personalized License Plate: State By State
Alabama: https://www.alabamainteractive.org/ador_pt/welcome.action
Alaska: https://online.dmv.alaska.gov/dos/PersonalizedPlate/PersonalizedPlate/
Arizona: http://www.azdot.gov/mvd/vehicle/mvdplate.asp
Arkansas: https://www.ark.org/dfa/licenseplates/index.php
Californa: http://www.dmv.ca.gov/online/elp/elp.htm
Colorado: http://www.colorado.gov/cs/Satellite?c=Page&cid=1201542832093&pagename=Revenue-MV%2FRMVLayout
Conecticut: http://www.dmvplate.state.ct.us/VanityPlate.asp?dmvPNavCtr=|#46900
Delaware: https://citizen.dmv.de.gov/public.ejs?command=PublicVanityPlate
Florida:http://www.flhsmv.gov/dmv/forms/BTR/83043.pdf" href="http://www.flhsmv.gov/dmv/forms/BTR/83043.pdf" rel="nofollow" target="_blank"> http://www.flhsmv.gov/dmv/forms/BTR/83043.pdf
Georgia: http://motor.etax.dor.ga.gov/motor/plates/platesamples.aspx
Hawaii:http://www4.honolulu.gov/specialplates/main/frmInquiry.asp
Idaho: https://www.accessidaho.org/secure/itd/personalized/plates.html?ScriptForm.startstep=type
Illinois:http://www.cyberdriveillinois.com/publications/pdf_publications/vsd414.pdf
Indiana: http://www.in.gov/bmv/2824.htm
Iowa: http://www.iowadot.gov/mvd/ovs/plates/plates.htm
Kansas: http://www.ksrevenue.org/dmv-plates.html
Kentucky: http://mvl.ky.gov/MVLWeb/PPCServlet
Louisiana: http://omv.dps.state.la.us/Special%20Plates/SpecialPlates2.asp
Maine: https://www1.maine.gov/online/bmv/vanity/
Maryland: https://securetransactions.mva.maryland.gov/emvastore/AlternatePlateInfo.aspx
Massachusetts: http://www.massdot.state.ma.us/rmv/VanityPlateRequirements.aspx
Michigan: http://services.sos.state.mi.us/plates/
Minnesota: https://dps.mn.gov/divisions/dvs/pages/dvs-content-detail.aspx?pageid=608
Mississippi: http://www.dor.ms.gov/mvl/main.html
Missouri: http://dor.mo.gov/motorv/plates
Montana: https://doj.mt.gov/driving/plate-designs-and-fees/
Nebraska: https://www.nebraska.gov/dmv/splate/index.cgi
Nevada: http://www.dmvnv.com/platespersonalized.htm
New Hampshire: http://www4.egov.nh.gov/platecheck/platecheck.aspx
New Jersey: http://www.state.nj.us/mvc/Vehicle/personalized_plates.htm
New Mexico: http://www.mvd.newmexico.gov/Vehicles/Pages/License-Plates.aspx
New York: http://www.dmv.ny.gov/personalplates/default.html
North Carolina: https://edmv-sp.dot.state.nc.us/sp/PersonalizePlate?serviceType=EXP
North Dakota: http://www.dot.nd.gov/forms/sfn53612.pdf
Ohio: http://bmv.ohio.gov/special_plates.stm
Oklahoma: http://www.oktax.state.ok.us/sp7.html
Oregon: http://www.oregon.gov/odot/dmv/pages/vehicle/plates.aspx
Pennsylvania: http://www.dmv.state.pa.us/pdotforms/mv_forms/mv-904.pdf
Rhode Island: http://www.dmv.ri.gov/plates/vanity/
South Carolina: http://www.scdmvonline.com/DMVNew/PlateGallery.aspx?q=All
South Dakota:https://www.state.sd.us/eforms/secure/eforms/E1794V7 SDPersonalizedLicensePlateApplication.pdf
" href="https://www.state.sd.us/eforms/secure/eforms/E1794V7-SDPersonalizedLicensePlateApplication.pdf" rel="nofollow">https://www.state.sd.us/eforms/secure/eforms/E1794V7 SDPersonalizedLicensePlateApplication.pdf
" href="https://www.state.sd.us/eforms/secure/eforms/E1794V7-SDPersonalizedLicensePlateApplication.pdf" rel="nofollow" target="_blank"> https://www.state.sd.us/eforms/secure/eforms/E1794V7 SDPersonalizedLicensePlateApplication.pdf
Tennessee: http://www.tn.gov/revenue/forms/titlereg/f1314001Fill-in.pdf
Texas: http://www.txdmv.gov/vehicles/license_plates/general.htm
Utah: http://dmv.utah.gov/license-plates
Vermont: http://dmv.vermont.gov/registrations/drivers/plates/special
Virginia: https://www.dmv.virginia.gov/dmvnet/plate_purchase/select_plate.asp
Washington: http://www.dol.wa.gov/vehicleregistration/specialplates.html
Washington, D.C.: http://dmv.dc.gov/node/156412
West Virginia: http://www.transportation.wv.gov/dmv/Vehicles/Pages/HandicappedMC.aspx
Wisconsin:http://www.dot.wisconsin.gov/drivers/plateguide/special.htm" href="http://www.dot.wisconsin.gov/drivers/plateguide/special.htm" rel="nofollow" target="_blank"> http://www.dot.wisconsin.gov/drivers/plateguide/special.htm
Wyoming: http://www.dot.state.wy.us/wydot/titles_plates_registration/specialty_plates/Prestige_Plates