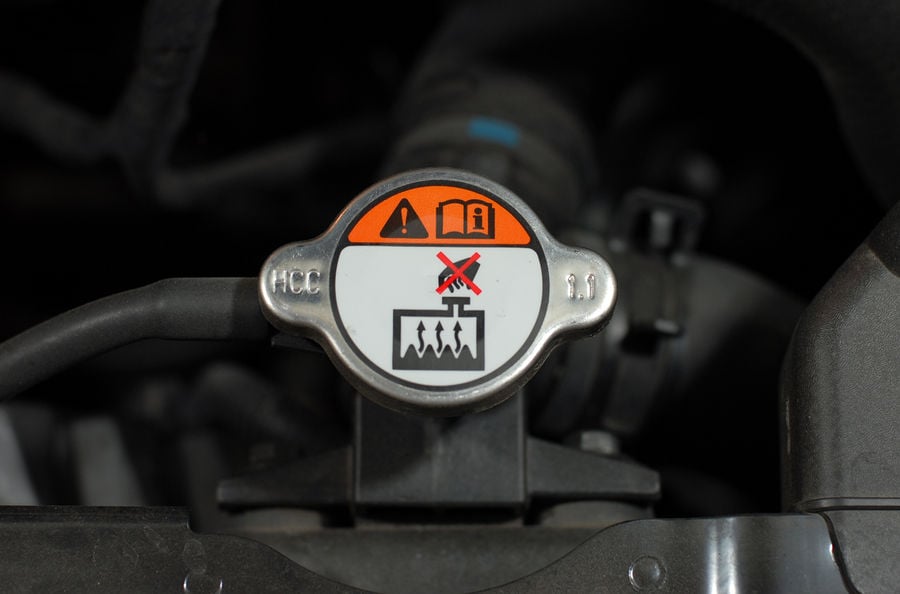 engine coolant cap
When learning how to drain the antifreeze from a radiator, it is important to prevent antifreeze from spilling onto the ground as it is highly toxic. It's also important to ensure that the engine and antifreeze are cool. Depending on the vehicle, you may need to support the car on jackstands or drive onto ramps to get the access necessary to drain the radiator.
Find the Drain Plug
Many radiators have a drain, usually located in one of the bottom corners of the radiator. In some cases, this drain will be a valve that is opened to let the antifreeze out, while in others it is a plug that needs to be completely removed. Before draining the radiator, remove the cap from the rad or overflow to allow air to enter the system to replace the coolant as it flows out. Place your drain pan under the rad and open the valve or remove the plug to let the fluid drain out. Once all the antifreeze has drained from the system, replace the drain plug or close the valve.
No drain? Remove the hose.
If your radiator doesn't have a drain, you will need to remove the bottom radiator hose in order to drain the fluid. Radiator hoses are normally held on with a clamp. Have your drain pan handy because as soon as the hose is removed, fluid will start to drain from both the hose and the radiator. Once the clamp is removed, you should be able to remove the hose from the radiator by simultaneously pulling and slightly twisting the hose back and forth. Once both the hose and radiator are empty and fluid has stopped coming out, replace the hose and clamp.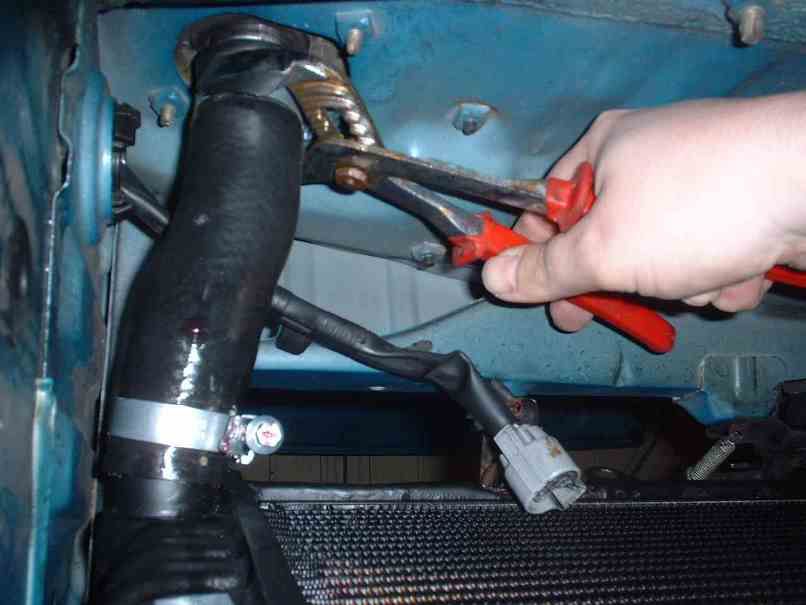 Fill with Antifreeze
When it comes time to refill the system, be sure to use the recommended antifreeze for your vehicle as using the improper type can cause issues with gaskets and other parts of the cooling system. If the coolant isn't premixed be sure to use distilled water to dilute the coolant to the proper ratio for your climate, preferably before pouring it into the rad. Fill the car with antifreeze and check for leaks near the drain and bottom radiator hose. When the system is full, leave the top off the radiator or overflow and start the vehicle. As the coolant circulates, any air in the system should be burped out. After a few minutes check for leaks again, replace the radiator cap and take the car for a drive. If the car seems to be running warmer than it should, there may still be air in the system. Allow the car to cool, open the radiator cap, and run the car for a while longer to allow the rest of the air out of the system.