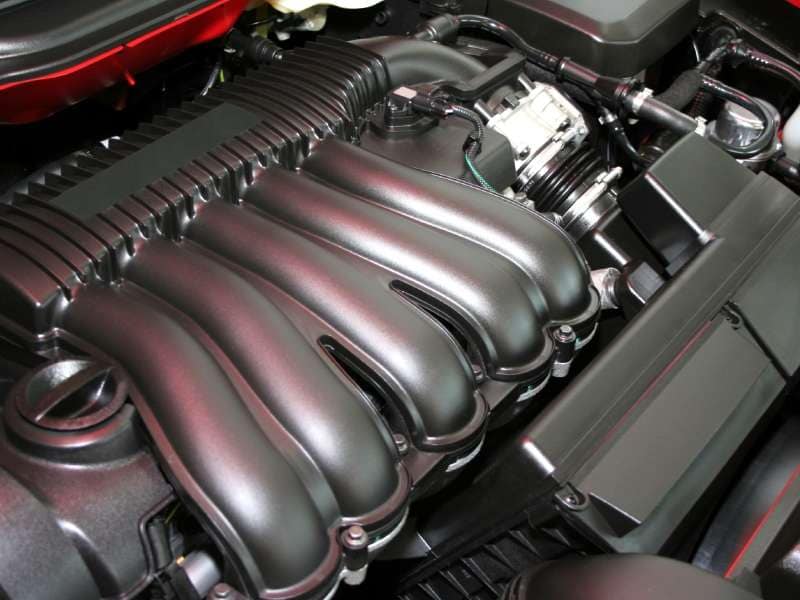 A clean engine bay not only looks good but also makes it easier to spot leaks. When it comes to knowing how to clean a car engine the most important thing is to protect sensitive parts of the engine to prevent them from being damaged by water. Before cleaning the engine ensure that it is cold or only slighty warm (it's not a good idea to spray cold water on a hot engine). Next, disconnect the negative battery cable to help prevent short circuits. Remove any loose debris from the engine compartment with a brush, compressed air, or a vacuum. Block any air intakes for both the engine and climate control systems and cover electrical and electronic components (especially the fuse box, computer, spark plugs, coils, alternator, etc.) with waterproof material.
Apply some engine degreaser or cleaner to the engine and other dirty components. Degreasers shouldn't damage the paint, but will remove wax so try not to apply them too liberally. It's best not to use anything that contains solvents as these could age or eat away rubber parts. Allow the degreaser to soak in for ten to fifteen minutes and then use a garden hose to rinse off the engine (but do not use a high pressure attachment or pressure washer as these could damage sensitive components or force water into spaces where it shouldn't be). Use more cleaner and a brush to clean any parts that are still dirty and then repeat the rinse.
Remove the coverings from the intakes and electrical components and reconnect the negative battery cable, then start the engine and allow it to run for approximately 15 minutes to dry the engine. Next you can apply a clear engine protectant to protect the engine and components and make them easier to clean in the future. The last step is to apply wax to all of the painted surfaces in the engine compartment to finish the job.