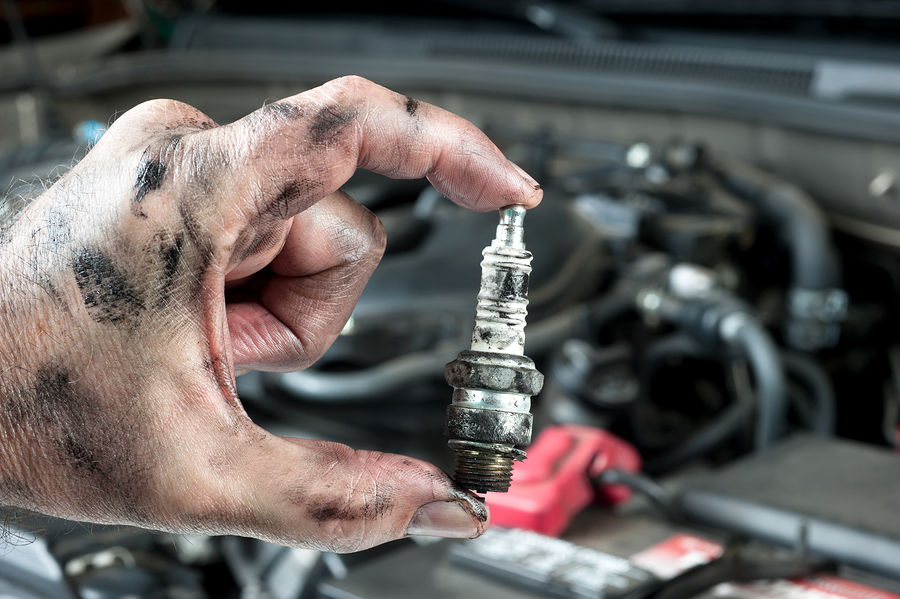 mechanic hold an old spark plug
If your vehicle's maintenance schedule recommends replacing your spark plugs or you think you may have an issue with your ignition system, it's often worth inspecting the spark plugs before doing anything else. Many modern vehicles use platinum spark plugs which, while more expensive than copper plugs, also last much longer. There's no point in replacing a part if there's no reason to.
In order to properly check the spark plugs, you will need to remove them from the car. With the plug removed the main thing to check is the center electrode. If the center electrode is still in good shape, the plug most likely doesn't need to be replaced. It may be helpful to have a new plug to use as a comparison as some spark plugs have unique looking electrodes. You should also inspect the rest of the plug to ensure that they are in good shape and that there aren't any cracks in the ceramic.
Knowing how to read spark plugs can provide much more information than just whether or not they need to be replaced. Some signs are quite obvious; if the spark plug is covered in oil, there may be a problem with your engine allowing oil to get past the piston rings. If the plug is covered in carbon it can indicate that the engine is running cool or doesn't get up to temperature. If the side electrode or insulator has melted, it can indicate an engine that is running hot. Abnormal erosion on the side electrode can indicate contaminants in the fuel. A normal plug in good shape should have a gray or brown color and be free of major deposits.
When checking spark plugs, if any of them are marginal or in need of replacement, it's best to change them all. Whether you are reusing the old plugs or replacing them with new ones, check and adjust the gaps before installing, and be sure not to over or under-tighten the plug.