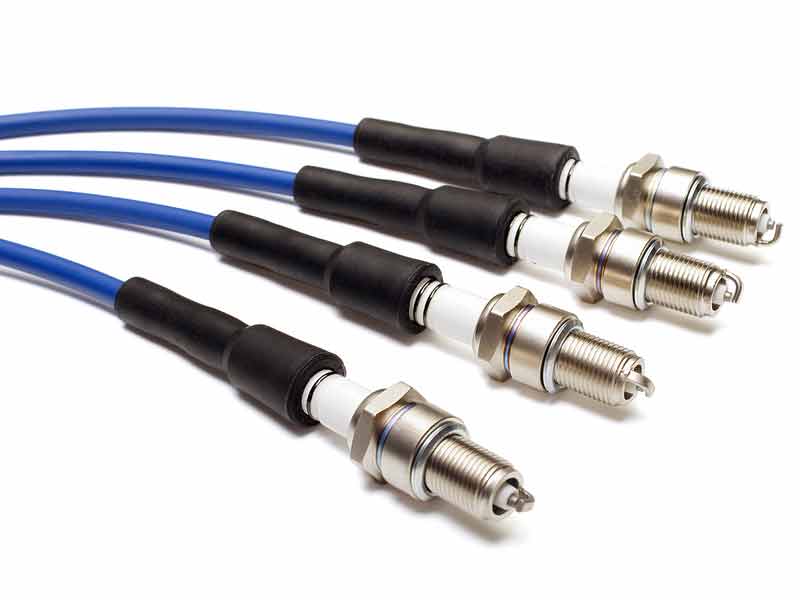 spark plug wires
The spark plug wires transfer high voltage power from the coil to the spark plugs in the engine. Rough idle, poor fuel economy, engine knock (a thump from the engine bay accompanied by a lack of power), or a failed emissions test can all be signs that it's time to change spark plug wires. Many modern cars have replaced wires and coils with a combined coil on plug or coil near plug system. With these designs, normally the entire unit is replaced; however, sometimes individual components such as the boot are available.
One of the easiest ways to check the condition of your spark plug wires is to start the engine with the hood open during the night. If you see any arcing anywhere down any of the wire's length, the wire is mostly likely faulty. With the engine off (and under good light) inspect the wire's insulation to make sure there are no cracks, and check where the wire enters the boot to ensure that the wires aren't coming apart.
# How To Change Spark Plug Wires
When replacing spark plug wires, it's best to replace the entire set. When buying replacement wires try and find a set with wire lengths that are similar to the originals as it is important to use the stock routing to prevent misfiring and interference between the wires. Change the wires one at a time so that you can easily keep track of which wire goes where. If you accidentally miswire the plugs, they won't fire at the right time and your engine will run rough and can potentially be damaged. Remove the wire from both the spark plug and coil or distributor by pulling on the boot while giving it a slight twist. Pop the wire out of any clips that hold it in place, and replace it with the new wire. You may wish to use a small amount of dielectric grease on the boots before you reconnect them; however, remember that dielectric grease is non-conductive, so use sparingly. The boots should simply push on, providing a snug fit. Repeat the process for the remaining wires. If you car has a distributor, don't forget to replace the wire that runs from the coil to the distributor as well.
Once you have completed swapping the wires, start the car to see if it's running smoothly, and to again check for any arcing.