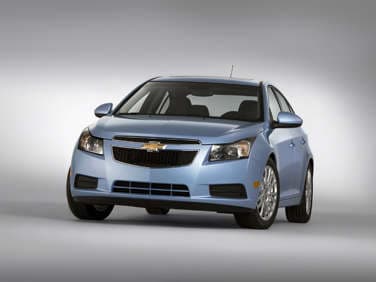 You may have heard of the Chevrolet Cruze, but do you know about the Eco model?  The 2011 Chevrolet Cruze Eco is a new breed of automobile.  This non-hybrid sedan averages 42 miles per gallon which is just one shy of the 2011 Honda Civic hybrid.  Yes; let this sink in for a moment.  The Cruze is turbocharged, shaped like a normal car, and has all the amenities you could ask for.  So how exactly does the Eco get such great fuel economy numbers?
How the Cruze Does It
What makes the Cruze Eco so ground breaking is the amount of technology in its DNA.  Chevrolet used a lot of research and brainpower to find ways of increasing fuel economy by thinking outside the box.  Practically every area of the car was addressed.  From the engine, to the body, to the wheels; the Cruze Eco adds a bit of fuel economy here and a tad of gas mileage there.
Starting with the exterior, the engineers over at Chevrolet lowered the car's Drag Coefficient to 0.29.  This is the same as a 2001 Toyota Prius.  This phenomenal figure was achieved by a using a slick body design and well placed aero components.  But the really trick part on the Eco is the set of motorized shutters located in the lower grill.  Cars have big gaps in their bumpers to allow cold air in to cool the radiator.  By automatically closing the shutters at highway speeds, the Cruze is able to slice through the air with less resistance.  The Cruze Eco also rocks a front aero lip, rear spoiler, and a lowered stance.  The result is a nice improvement in fuel economy.  Oh, and throw in a set of light-weight aluminum rims and low rolling resistance tires for good measure.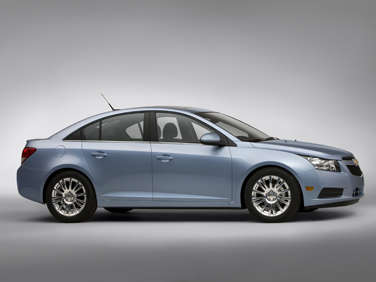 Inside the Chevy Cruze Eco
Under the hood the Chevrolet Cruze Eco has a turbocharged power plant.  Although small in displacement at only 1.4 liters, this engine still puts out a nice 138 horsepower with the help of forced induction.  This proves to be very economical as a turbocharger runs off spent exhaust gasses.  It is this system that also helps to improve the emissions over the regular non-Eco Chevy Cruze.  To get the best highway MPG figure of 42, the Eco with the 6-speed manual transmission must be selected.  Hey, that's cool with me.  I love to row through 6 gears on a turbocharged engine.  The gear ratios are much taller on the last 3 gears.  This hurts acceleration but really helps mileage cruising speeds. 
The 4-door 2011 Chevrolet Cruze Eco has a base price of just under $18,500.  The car gets great safety ratings from the NHTSA, has a nice warranty, and can seat 5 passengers comfortably.  What more could you want?