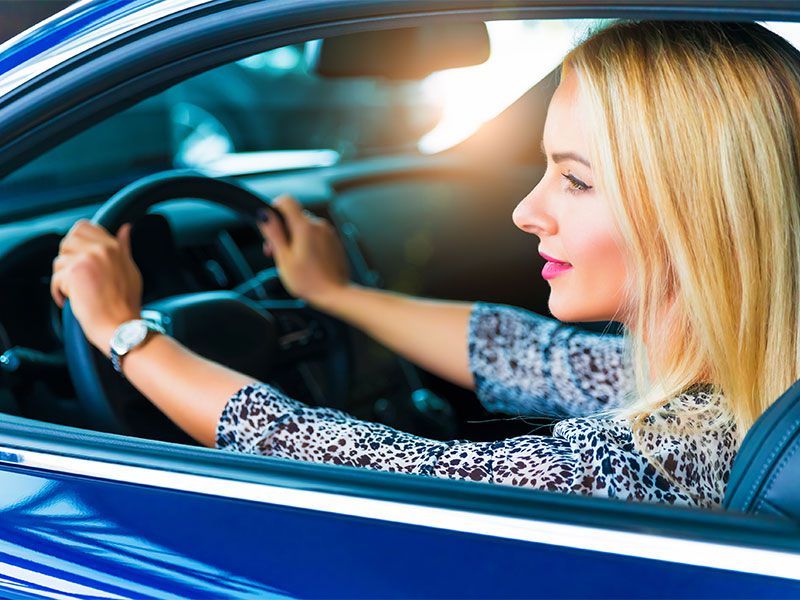 iStock woman driving new car
Beyond the price of the car itself, there are many other financial factors to consider when buying a new vehicle—and auto insurance is one of the most important. According to a recent study, the average rate for car insurance in the United States has topped $1,300/year. Since drivers typically hold onto a new vehicle for nearly six years, they're facing total coverage costs of roughly $7,800. 
However, your specific insurance outlay will depend on what kind of new vehicle you buy. A few key questions are especially important to keep in mind:
The price of an insurance policy has a lot to do with how much a car is worth, while how much a car is worth has a lot to do with how old it is. The relationship for typical mainstream vehicles is pretty clear, too: The older a car or truck is, the lower its value. Depreciation generally reduces a new car's value by 20% after only the first year on the road. So even if you somehow bought the exact same new car as your old one, with exactly the same equipment, the newer car would still be worth more because of depreciation. That higher value alone would lead to higher insurance rates for the same coverage. 
If you're going from a car that's a few years old to one that's brand new, you can look forward to a noticeable increase in technology. Even today's mainstream cars now offer high-tech features like mobile Wi-Fi, cutting-edge safety systems, LED lighting, and massive touchscreens. The thing is, it can be expensive to fix or replace—and you can be sure that insurance companies take that into account when setting their rates. As a result, buying a newer, more technologically advanced car can lead to higher costs for the same insurance. 
A very small number of insurers have offered a discount for particular driver-assistance technology. However, most companies feel that any savings from avoiding accidents are outweighed by the extra cost to fix the car if there is a crash. 
You'll likely face higher insurance prices for any new equipment that you didn't have on your last car. Again, it's a good-news, bad-news situation: On the one hand, your new car's value is higher when it has features missing from your old ride; on the other, this means the cost of your policy will increase as well. Heated seats are a perfect example. It wasn't long ago that they were reserved for luxury vehicles. Today they can add comfort—and cost—to the most basic of basic transportation. 
Switching from a sedate family sedan to a high-powered muscle car is another way to boost your insurance rates quickly. First off, sportier cars tend to be more expensive, and as we've seen, a vehicle's MSRP is directly tied to the price of an insurance policy. Then there's the sporting part of the equation. Folks who own these cars like to drive fast, and that's a significant contributor to accidents. The World Health Organization reports that for every kilometer per hour of increased vehicle speed, the risk of an injury-causing crash typically increases by 3%.
The exotic materials often used in sports cars, for features like carbon-fiber spoilers and carbon-ceramic brakes, also require higher costs to repair or replace—further adding to the price of insurance. 
Do you know where else you can find exotic, expensive materials nowadays? Pickup-truck beds. They're currently made with stuff like carbon fiber and aluminum. Also available for the business end of a pickup are power-operated and multifunction tailgates, in-bed speaker systems, and stowable ramps. They bring new levels of functionality that you probably didn't have on your past pickup. But as you could probably guess by now, if we're listing them, those features are going to translate into pricier insurance policies. 
Along with the risk of an accident, insurance companies consider the risk of damage from intentional actions like theft. It turns out that certain cars are much more likely to be stolen than others, usually for a combination of the reasons we've already mentioned. In a recent study by the Highway Data Loss Institute, the highest claim frequencies for whole-vehicle theft were for cars like HEMI-powered Dodge Chargers, luxurious Infiniti QX80 SUVs, and luxury flagships like the Mercedes-Benz S-Class. The premium GMC Sierra was the most-stolen full-size pickup. 
As discussed earlier, the issue here is that when most people buy a new car, it's worth more than their old one. And since it costs more to insure a more valuable item, you end up paying higher rates for coverage. However, you don't have to settle for your first insurance quote if you do upgrade. You can also lower policy costs by following our proven tips for saving on auto insurance.