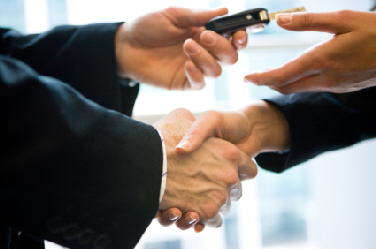 Although most people who have ever bought a car themselves claim to be experts on the art of how car loans work, in reality most people are uninformed about what goes into this very complex financial agreement. So if you are brave enough to ask the question, "How do car loans work?" then we applaud you because it is only by asking questions like these that we come to achieve true automotive knowledge. And when it comes to financing a new or used car with a car loan, knowledge is power.
How Do Auto Loans Work?
First, there are a number of ways to obtain a car loan for you next new or used vehicle. Car companies have financing arms, there are countless independent lenders that specialize in making car loans or you could set up financing through your bank or a credit union. But you have to be careful with who you choose to work for, as not all lenders are created equal. If you don't do your homework, you could find yourself the victim of hidden fees, charges and exorbitant or fluctuating interest rates.
The way car loans work, they can run anywhere from two years up to eight years but the most financially prudent car loan length is five years as it limits how much interest you will be paying on the borrowed sum of money to a manageable level. You see, the interest you pay each year on the money you borrow is how your lender makes its own profit. And while that is a fair concept, some lenders charge more than others for no reason other than the fact that they can.
What Affects How Car Loans Work?
Interest rates fluctuate depending on a couple of factors with your credit rating and history playing a huge part in what sort of deal you get. If you have a perfect credit rating you can sometimes qualify for a 0% interest rate loan but that means you need to always be up to date with paying your bills and have a good history with your credit card companies. There are lots of services that can tell you your credit rating for a fee and it's a good idea to check into that and, contrary to rumor, getting a credit check will not adversely affect your rating.
Your interest rate will also fluctuate depending on how quickly you plan on paying back the balance of your car loan. The shorter the term of your car loan, the lower that your interest rate will be since the bank sees your quick repayment time as a sign that you are not a risky client who might default on the loan. Defaulting on a car loan, by the way, is the quickest way besides not paying your mortgage to ruin your credit rating.
Once you ruin your credit rating, you will often times be forced to turn to lenders who will work with high risk clients but who charge exorbitant fees for the privilege. So, be smart and don't get yourself into that predicament. You should always have the freedom to shop around for the best interest rate and A.P.R. when getting a car loan for your next new or used car. Remember, knowledge is power. And now you know how car loans work.