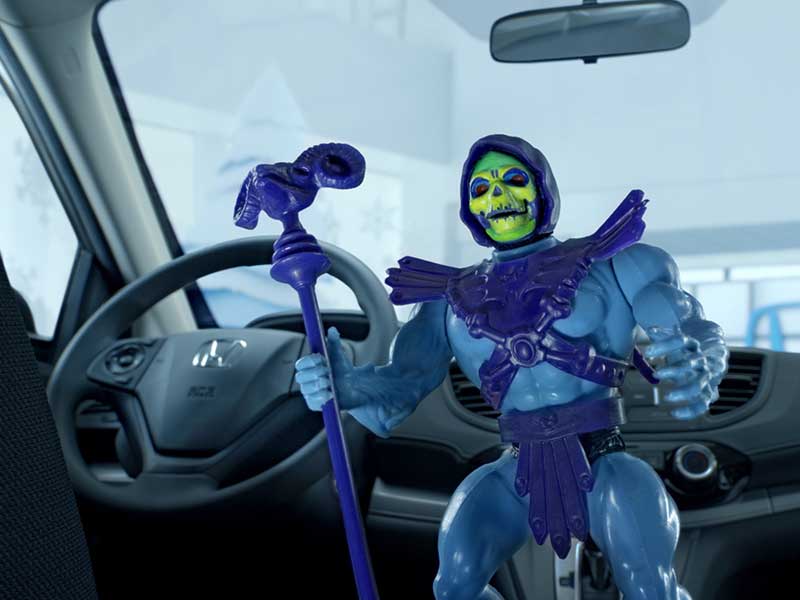 With the holiday season apparently upon us, Honda is kicking off its annual year-end sales blowout with an appropriately themed ad campaign that pairs new-gen models like the 2015 Honda CR-V with old-fashioned toys like Skeletor—arch-enemy of He-Man, from Masters of the Universe.
Along with Skeletor exulting over the 2015 Honda CR-V, the campaign also features:
Two spots for the Civic, one with Jem and G.I. Joe, the second starring Gumby and Pokey
Strawberry Shortcake—and Blueberry Muffin and Orange Blossom—for the Honda Pilot and Odyssey
Honda Accord commercials with Stretch Armstrong and the Fisher-Price "Little People"
Honda also reports that it used original dolls/action figures for each spot, along with stop-motion animation to  "authentically capture how these toys came to life through play."
This will, of course, be a full media campaign, with TV placements on shows like "Survivor" and "The Mindy Project," as well as digital, print, point-of-purchase and radio executions.
Said Susie Rossick, senior manager at American Honda Motor Co., Inc.: "With consumers inundated with holiday ads during the holiday season, our goal is to break through the clutter by helping people relive favorite childhood memories of a toy they loved during the holidays and associating that with a great deal on a new Honda. The Happy Honda Days Sales Event is a terrific opportunity for Honda to cap off a record-setting year, with the Accord, Civic, CR-V and Odyssey also on pace to lead their respective segments in retail sales."
Note: Those records reported by Rossick include some recent ones, too, with the Honda brand, the 2015 Honda CR-V and the 2015 Honda Fit all setting new volume benchmarks in October; that month also marked the second in a row in which the 2015 Honda CR-V led the entire industry in crossover sales.
As for the actual incentives offered by the Happy Honda Days events, those could be changed at any time but do currently include a $0 down program on the Civic, Accord and Pilot.