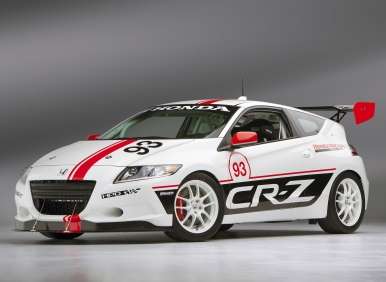 Honda is on a mission to bring back its motorsport mojo in this country. Yes, the company still provides engines for IndyCar racers—and saw Honda power claim its 197th IndyCar win just this past weekend—but both that series and the brand's racing efforts have had a fairly low profile in recent years. So, when Honda decided to raise awareness for its racing programs, it naturally headed right to the top of the mountain—as the first automaker to be partnering sponsor of the annual Pikes Peak International Hill Climb.
"Pikes Peak presents us with a unique opportunity to showcase Honda's diverse product lineup and to energize Honda fans around the world, as we work to further strengthen Honda's presence in racing at all levels," said Mike Accavitti, senior vice president of Automotive Operations for American Honda. "Our associates will be working hard between now and race day to prepare this diverse field of race vehicles and showcase the Honda racing spirit."
And they'll need to keep up that pace, as Honda is supporting 10 vehicles in nine race classes for the 2013 hill climb. Among them will be cars such as the Honda CR-Z and Honda Fit EV, motorcycles ranging from the Honda CRF250R to the Honda CRF1000RR, and a Honda TRX450 in the ATV class. Honda even will provide generators to bring light and electricity to the pits and staging areas for the race.
The 91st running of the Pikes Peak International Hill Climb is scheduled for June 30, 2013, in Colorado Springs, Colo.
Of course, that's not the only Honda motorsports news of note …
IndyCar Champ de Ferran Rejoins Honda Performance Development
Even though Honda is looking to put its racing efforts into fast forward, the company has announced that it will rely on a name from its past to do so: Gil de Ferran. The veteran driver rejoins the company as an advisor to Honda Performance Development, which oversees all Honda (and Acura) motorsports efforts in this country. In his first go-round with Honda Racing, de Ferran:
Won the 2003 Indy 500
Claimed back-to-back driving championships in the CART IndyCar World Series in 2000 and 2001
Set a closed-course speed record (241.426 mph) on the California Speedway, with that mark still standing today
Captured the 2009 American Le Mans Series (ALMS) driving championship in the LMP1 class
Served as sporting director for the Honda Formula 1 team from 2005-2007
"We're thrilled to have Gil rejoin the HPD family as a technical consultant and advisor," said Art St. Cyr, president of Honda performance Development. "It feels like a homecoming for us, as Gil has played such an important role for the Honda Racing effort in both open-wheel and sports-car racing for such a long time. His skills and expertise are almost impossible to duplicate, and we look forward to his continuing contributions to HPD's racing programs."
"I have always had the utmost respect and admiration for Honda and its role in motorsports," added de Ferran. "Throughout our long and storied history, whatever role I played, we have developed a great, successful, enjoyable and effective working relationship. I look forward to contributing to Honda's efforts once again."