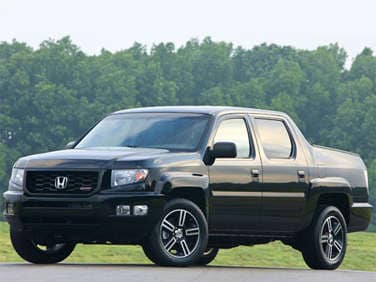 In light of the fact that the Honda Ridgeline has seen relatively few changes since it was introduced in 2005, many rumors have sprouted up in recent months that Honda plans to cancel the crossover pickup truck. Honda's truck planning manager, Sage Marie, sent out an email today assuring the future of the Ridgeline.
"I would like to lay to rest any rumors about the future of the Honda Ridgeline. In no uncertain terms, the reports in the media that we have plans to discontinue the Ridgeline pick-up truck are false." Marie said. "To the contrary, Ridgeline has a significant role in the Honda line-up and it is expected to continue in the foreseeable future. Ridgeline was developed to meet the needs of our customers. They have told us that it is important to offer a pick-up truck and Honda will remain committed to both the vehicle and the segment."
Although Marie did not say if it Honda is preparing a next-generation, sales of the pickup are down almost 50 percent compared to last year. Through the first nine months of 2011, the Honda Ridgeline has only sold 6,476 units while the same time period in 2010 saw sales at 12,703. This makes it the worst-selling Honda of 2011, and with only 700 Ridgelines sold last month, Honda is hoping some minor changes will help turn this trend around as it is planning a handful of upgrades for the Ridgeline's 2012 model year.
Some of the biggest news for the 2012 Honda Ridgeline is the addition of a Sport model. The 2012 Honda Ridgeline Sport will stand out with black-trimmed, 18-inch alloy wheels, a unique honeycomb grille with a red "Sport" badge and standard fog lights. Black accents are also being added to the headlights, taillights, door mirrors and door handles.
Honda also promises improved fuel economy for the 2012 Ridgeline, but no specifics have been released yet. The current Ridgeline gets EPA fuel economy estimates of 15 miles per gallon in the city, 20 mpg on the highway and a 17 combined mpg rating. Pricing has not been set for the 2012 Honda Ridgeline, and it will go on sale at Honda dealers next month.