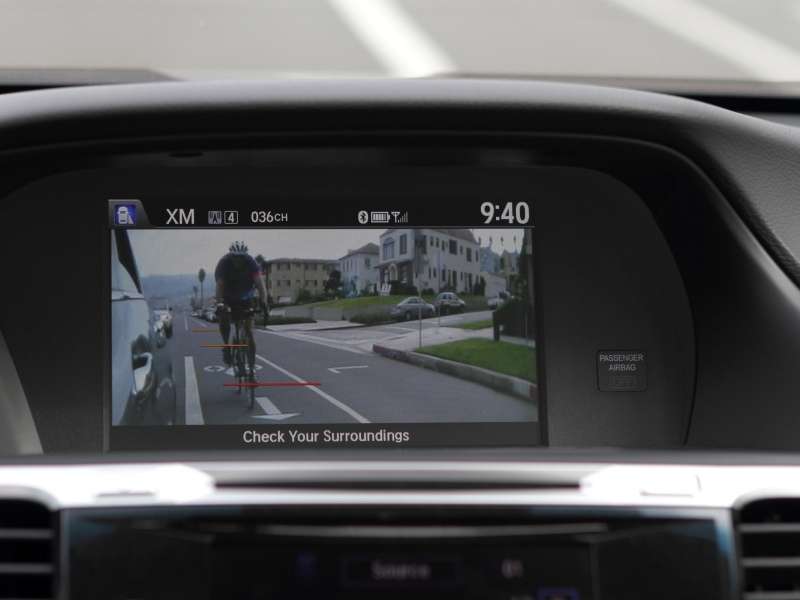 Honda achieved another notable safety advance recently, when the National Highway Traffic Safety Administration (NHTSA) added the automaker's rearview camera system to its list of recommended technologies for the New Car Assessment Program. The Honda rearview camera is the first in the industry to meet NHTSA's performance criteria for the program and joins Honda's forward-collision and lane-departure warning systems on the recommended-technologies roster.
Further, according to Art St. Cyr, vice president of product planning and logistics at American Honda: "Rearview cameras are an integral part of Honda's approach to enhance driver visibility. By the 2015 model year all Honda and Acura models will have rearview cameras standard on all models, yet another example of how our company is committed to enhancing the visibility and safety of our customers and everyone on the road."   
For the 2014 model year, the vehicles that offer the recommended rearview camera include:
Honda—Honda Accord (Coupe, Sedan, Hybrid and Plug-in Hybrid), Honda Civic (Coupe, Sedan, Hybrid and Natural Gas), Honda Crosstour, Honda CR-V, Honda CR-Z, Honda Fit EV, Honda Odyssey, Honda Pilot, Honda Ridgeline
Acura—Acura ILX (Sedan and Hybrid), Acura MDX, Acura TL, Acura TSX, Acura RDX, Acura RLX (Sedan and Hybrid)
Now, just to be clear, although NHTSA has begun putting its stamp of approval on certain automotive safety technologies, offering those technologies does not affect an entry's Overall Vehicle Score in its NCAP safety testing. Which is just fine for the majority of Honda products, since they're able to achieve "5-star" scores anyway. The Honda Odyssey makes a nice case in point, as the minivan recently achieved a top NHTSA rating for the 14th consecutive year.
It's also worth noting that Honda has had some strong showing with the Insurance Institute for Highway Safety (IIHS). The Institute again tightened up its criteria for the current model year, but Honda continues to lead the industry in the Top Safety Pick+ recognitions. In fact, the Odyssey is the only minivan to make the cut, and the Civic sedan is one of just two entries in its class to earn the honor.