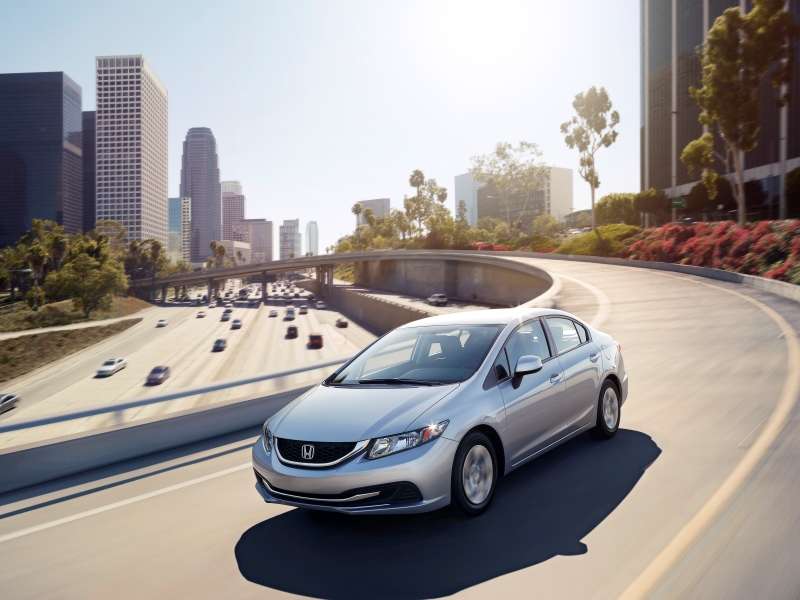 2015 honda civic sedan se
MSRPs for the 2015 Honda Civic family rise by $100 for the new model year, with the cost of the 2015 Honda Civic Coupe now at $18,290 and the 2015 Honda Civic Sedan starting at $18,490. It's a relatively small price bump, although consumers should keep in mind that the starting point of the 2014 models already topped the segment.
Here's a quick pricing leaderboard for context, using each nameplate's lowest MSRP, with year-to-date sales performance also provided. Remember, though, while other entries do offer coupe versions, all the vehicles listed here—except for the 2015 Honda Civic—offer a sedan as the entry point to the lineup:
2015 Honda Civic—$18,290; 231,167 sales, up .3 percent
Subaru Impreza—$17,895; 59,119 sales, up 9.1 percent
Chevrolet Cruze—$17,520; 189,699 sales, up 3.6 percent
Hyundai Elantra—$17,250; 157,555 sales, down 9.9 percent
Mazda3—$16,945; 72,400 sales, down .8 percent
Toyota Corolla—$16,900; 238,275 sales, up 13.3 percent
VW Jetta—$16,895; 104,810 sales, down 5.5 percent
Ford Focus—$16,810; 160,759 sales, down 6.5 percent
Dodge Dart—$16,495; 53,840 sales, down 7 percent
Nissan Sentra—$15,990; 128,659 sales, up 42.2 percent
Kia Forte—$15,890; 49,276 sales, up 2.5 percent
On the other hand, the 2015 Honda Civic does come fairly well equipped, and the new SE sedan model will be a particularly high-value proposition.
The 2015 Honda Civic Sedan SE will slot between the entry-level LX model and the Civic EX, and with a starting price of $19,990, owners welcome "over $1,100 worth" of added content—as compared to the Civic LX—while paying a $700 premium.
More specifically, the SE package includes:
A continuously variable transmission that, paired with a peppy 143-hp 1.8-liter engine, delivers EPA ratings of 30 mpg city/39 mpg highway/33 mpg combined
15-inch aluminum-alloy wheels with distinctive black-painted inserts
Honda's LaneWatch system, which can show a video view from the passenger-side exterior mirror right in the standard rearview camera screen of the 2015 Honda Civic SE
Display Audio with next-gen HondaLink technology and an extra pair of tweeters, complementing the Civic's standard Bluetooth technologies
Automatic climate control with air-filtration system
The 2015 Honda Civic SE will go on sale this fall along with the rest of the family, which once again will include high-efficiency hybrid and high-performance Si models, along with a 2015 Honda Civic Natural Gas that runs on clean-burning compressed natural gas.