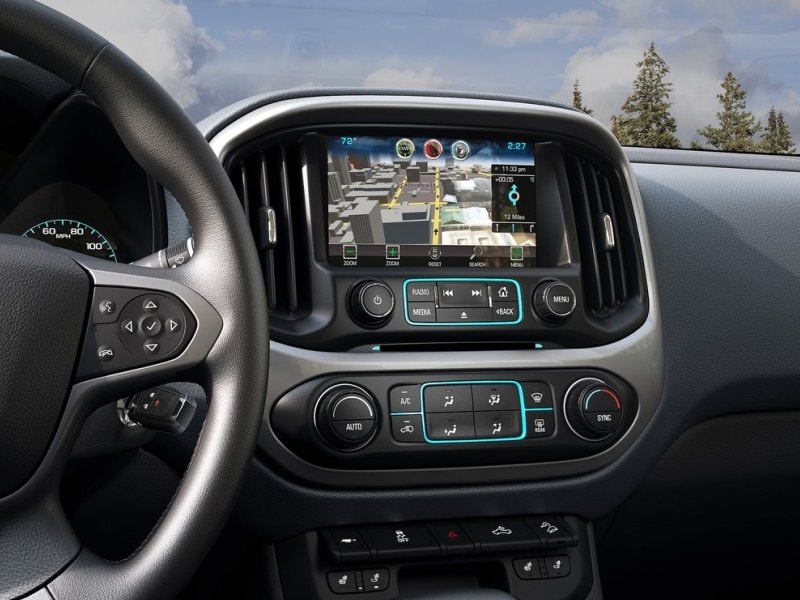 The 2015 Chevrolet Colorado has an immediate impact on the auto industry by offering—among other benefits—particularly high levels of technology (and stuff). But it's not just the tech inside the truck that's made it so popular: The all-new Colorado has plenty of technology behind it, too. For example, the 2015 Chevrolet Colorado is among the GM vehicles to benefit from the company's "PowerWall" virtual reality system during its design process.
Backed by a 240-square-foot, solid glass screen and more pixels than an IMAX theater, the PowerWall can show 2D and 3D renderings that are so incredibly life-like that they were used to eliminate "unsightly" drain-hole reflections when creating the available chrome-assist steps for the 2015 Chevrolet Colorado. The system also provided significant advantages in developing the "GearOn" cargo-management for the truck. In both cases, engineers were able to fine-tune the parts' form and function without having to invest the time and money needed to build and test physical models.
Said Joe Guzman, engineering group manager for Global Virtual Design Process & Operations: "That's the beauty of this kind of high definition. Using the math data, we can render the vehicle as the customer will see it in the 'as manufactured state.' Designers and engineers can then scrutinize every detail to make sure they are spot on."
And that effort has paid off in a slew of impressive third-party awards for the 2015 Chevrolet Colorado, which recently beat out rivals including the new Ford F-150 to become the Motor Trend Truck of the Year.
Said Edward Loh, editor-in-chief of Motor Trend: "After days of testing, hundreds of miles on the road, and our most rigorous truck testing program to date, our editors unanimously selected the Chevy Colorado as our 2015 Truck of the Year. Colorado is a smart, capable, and refreshingly honest truck that makes a strong value and efficiency statement. It's perfectly sized and suited for the needs of many of today's truck users."