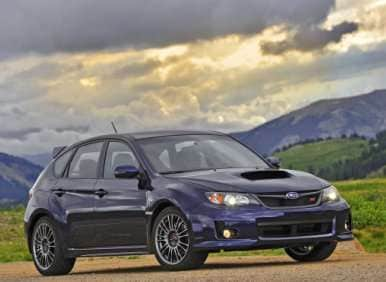 Fanboys may be salivating over news that the next-gen Subaru WRX will be built on its own platform, but it's clear that the current model can still scare the spit out of its rivals in the rally world. After all, David Higgins, driving for the automaker's Rally Team USA, just took home this year's Rally America National Championship in a 2012 Subaru WRX STI.
Higgins also won the Rally America crown last year in a WRX STI and, unsurprisingly, raved about the car:
"Our Subaru has been perfect all season," he said. "The 2012 STI is reliable and so tough and that has really been the difference in the points race. We have finished every event with either a victory or a second place finish and the car has worked in every condition thrown at it.  I'm looking forward to going to the Olympus Rally in two months with no thoughts on championship points, so [co-driver] Craig [Drew] and I will make sure the fans get a proper show! I thank Subaru for their support and faith in myself and Craig, and big thanks the team at Vermont SportsCar who have worked tirelessly on providing me with the best car and the best team possible."
And yes, you read that correctly: Higgins has wrapped up the 2012 title with one event still to come on the Rally America schedule, the Olympus Rally, scheduled for Sept. 21-22 in Olympia, Wash.
2012 Subaru Impreza WRX STI: Recap for a Rally Winner
The current Subaru Impreza WRX STI—still with the "Impreza" name attached on the automaker's website—still provides nearly unrivalled bang for the buck. It's priced from a relatively modest $34,095, yet it packs a bodacious 305 hp worth of turbocharged I4 engine that also makes 290 lb.-ft. of torque, all in a relatively svelte package that comes in under 3,400 lbs. To put that into context, GM is making a big deal about the low weight of the new Cadillac ATS, which tips the scales at a similar mark, but the ATS' so-called "high-performance" engine choice delivers 35 fewer horses and 30 fewer lb.-ft. of twist.
The WRX STI also gets an extreme makeover from the automaker's Subaru Tecnica International (STI) performance division and features a full aero kit with the massive rear spoiler that's a hallmark of the sedan version (the five-door gets a smaller liftgate spoiler), a Brembo Performance Brake System, a helical-gear limited-slip front differential and a Torsen torque-sensing unit at the rear, a driver-selectable Vehicle Dynamics Control system that adjusts vehicle-stability and traction control for different driving scenarios, and a hi-po version of Subaru's SymmetricalAll-Wheel Drive, with Driver Controlled Center Differential technology. That last system allows owners to further fine-tune the performance of the WRX STI with three performance modes and six available locking-control settings.
In addition, there's a surprisingly high level of creature comforts on tap in the 2012 Subaru WRX STI. Heated front seats, Bluetooth technology, a leather-wrapped steering wheel with integrated audio/cruise/Bluetooth controls, and a premium audio setup are all standard, with navigation and a power moonroof (sedan only) on the options list.
All of which should be enough to keep customers happy until the all-new model arrives in 2014.