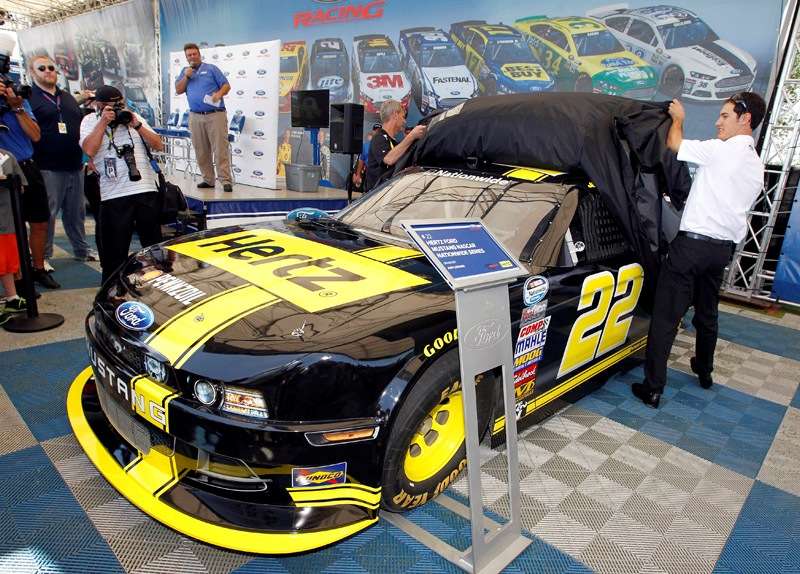 Hertz and Penske Racing have teamed up and created a very unique Mustang GT that you can rent. Dubbed the Hertz Penske GT, this model joins Hertz's "Adrenaline" car collection, which features the likes of the Chevrolet Camaro SS, Corvette, and Dodge Challenger R/T.
Hertz has a long history of offering very unique sports cars for rentals. Back in the mid-sixties, Hertz offered a special edition of the Shelby GT350 called the GT350H via their Rent-A-Racer program. In 2006, the company paid homage to that vehicle by doing a 40th anniversary Shelby GT-H. 2009 saw the introduction of the Corvette ZHZ.
Starting with the exterior, the Hertz Penske GT wears yellow racing stripes that match the livery of the new Penske Racing NASCAR cars. Up front, you'll find a front splitter that comes from a Mustang Boss 302, and around back is a rear diffuser from the Shelby GT500. Inside, the Penske GT gets Recaro bucket seats, limited edition display plaques, Hertz floor mats and door-sill plates, and MyFord Touch with navigation and a backup camera.
But what's underneath the Hertz Penske GT is where it gets interesting. You have a 5.0L V8 engine that gets a reprogrammed computer, along with a new intake and exhaust. There is also a more aggressive final drive ratio, stiffer suspension setup, and Brembo brakes.
"Working with Penske Racing, we're excited to introduce the Penske-inspired vehicle as the newest in a long line of American muscle cars in our rental fleet. There's nothing more thrilling than hitting the open road in a high-performance, American-built sports car. With this addition to our Adrenaline Collection, we are introducing a vehicle with race car performance enhancements to give customers a unique travel experience," said Mark. P. Frissora, Hertz Chairman and CEO.
The Hertz Penske GT will be available at certain airports.