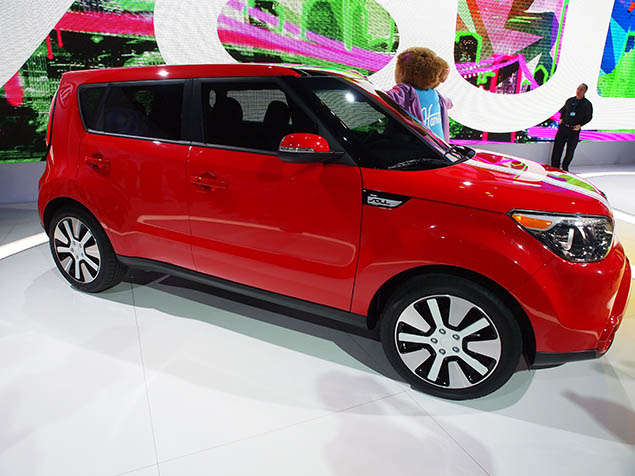 The "total transformation" of the 2014 Kia Soul seems to have had its desired effect, as the brand's self-styled urban passenger vehicle raised the ol' sales bar to record heights in April. With 14,403 deliveries and a 12.9 percent gain in volume, the 2014 Kia Soul also was well ahead of the strong sales pace set by the industry as a whole last month, when combined automaker sales grew by 8.1 percent. 
Further, a case can be made the 2014 Kia Soul was the best-selling subcompact in the United States for April, which would be a notable achievement: Every other core vehicle segment is topped by an entry from the traditional Big 6 (GM, Ford, Chrysler Group, Toyota, Honda and Nissan). Now, it's true that most folks consider the Soul to be a niche product, like a Scion xB or one of the MINI variants, but it's almost exactly the same length as the vehicle that's usually considered the subcompact king, the Nissan Versa.
Be that as it may, the Soul was just part of the reason that Kia rang up an April sales record last month. To help increase volume by 12.9 percent, as well as deliver 53,676 new vehicles in April, the brand benefited from 7,624 sales by the Kia Forte, accounting for a fairly massive 46.3 percent advance over the car's total from April 2013.Moving up the car classes, the Kia Optima midsize sedan actually led the brand in terms of volume, but its 14,589 sales were down about 90 units as compared to the same month last year.
Among the crossovers, the bright spot for the brand was the 2014 Kia Sportage. It's been a consistent winner all year, and added to its momentum increasing volume more than 24 percent in April, backed by 3,530 deliveries.
Michael Sprague, executive vice president of sales and marketing for Kia Motors America, also pointed out another major accomplishment for the company: "The Kia brand has grown and matured in this market for two decades, and we reached another significant milestone in April by selling our 5 millionth vehicle in the U.S., which is a testament to our philosophy of advancing value to new levels of sophistication with world-class design, advanced technology and outstanding quality in every segment in which we compete, from sub-compact to luxury."