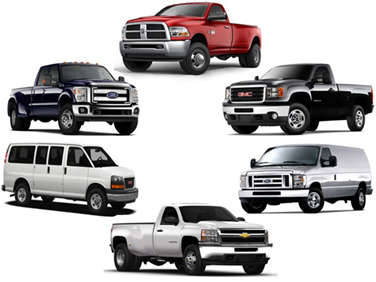 Heavy-duty trucks have been one of the few consumer vehicles that are exempt from fuel efficiency standards, but earlier this month, that era was given an expiration date. Starting in 2014, the U.S. Government will begin to regulate the heavy end of consumer pickups and vans. This will likely add extra costs for consumers, but the government says these vehicles will put more money into buyers' pockets over the long haul.
Under the Heavy-Duty National Program, the Environmental Protection Agency (EPA) and the National Highway Traffic Safety Administration (NHTSA) have set standards for combination tractors, vocational vehicles and trucks with a gross vehicle weight of 8,500 pounds or more. This will mean getting more mileage out of gas and diesel versions of pickups like the Chevrolet Silverado HD (as well as the similar GMC Sierra HD line-up), Ram HD and the entire Ford Super Duty line.
Reduced Emissions and Oil Usage
According to the EPA's report, the new Heavy-Duty National Program standards will reduce CO2 emissions by about 270 million metric tons and save about 530 million barrels of oil over the life of model year 2014 to 2018 vehicles. The entire investment for this program will cost an extra $8 billion in production. It also noted the benefits in fuel consumption over all these vehicles should be a $50 billion savings, which means a net savings of $42 billion.
Pictured: 2012 Chevrolet Silverado
Real-Life Costs and Savings
For a more individual perspective, the EPA and NHTSA believe that the new technology on all affected vehicles will likely pay for itself in two years or less. According to an announcement released for the Heavy-Duty National Program, "an operator of a semi truck can pay for the technology upgrades in under a year, and have net savings up to $73,000 over the truck's useful life."
Featured: 2012 GMC Sierra 2500HD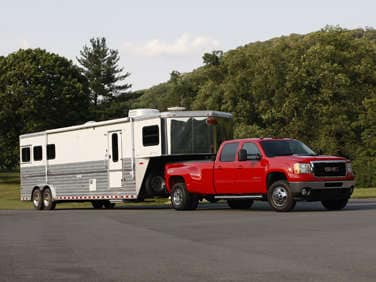 Changes Start in 2014
The full payback schedule for consumer vehicles may be a littler tougher to pinpoint for the Heavy-Duty National Program. Standards for heavy-duty trucks and vans are based on a "work factor" that considers a vehicle's payload, towing capabilities, and whether or not it has four-wheel drive. These new regulations will be gradually rolled in over the 2014-2018 model years. Once the new standards are fully integrated, we should see a 10 percent increase in fuel economy and 12 percent decrease in emissions for gasoline vehicles. Diesel trucks and vans will see 15 percent increase in fuel economy and 17 percent decrease in emissions by 2018.
Featured: 2011 Dodge Ram 3500
Many Questions Still Remain
These new Heavy-Duty National Program standards may seem a little vague and/or confusing. The EPA and NHTSA have not yet released exact miles per gallon figures under the H-D National Program, and the program does not outline the technology that will be utilized to meet these standards. We can predict right now these new regulations will be bring all consumer trucks at least into double-digit mpgs. This can be achieved with technology that is already available such as low rolling resistance tires and improved aerodynamics.
Featured: 2012 Ford F-250