Honda vs. Nissan: Which builds a better coupe?

Serve your inner wild child – drive a coupe.
Though not exactly synonymous with debauchery, coupes make a statement distinct from their family-friendly, four-door counterparts. Parents and all who favor the practical keep sedans selling, but what of the offspring-free or single 20-somethings? For these shoppers there's the Nissan Altima Coupe and Honda Accord Coupe, each aiming to balance style with practicality. We ran them head-to-head, selecting models with big V-6s and manual transmissions to up the wild quotient and decided either would make most any childless bachelor happy, yet the Honda would do so more consistently.
By Thom Blackett
Photo Credit: Oliver Bentley, Ron Perry, and Nissan
Page 2
In one corner was a 2008 Nissan Altima Coupe 3.5 SE packed with standard features such as 17-inch alloys, keyless ignition, a six-speed manual transmission, a moonroof, an MP3 jack, and six airbags. Options included floor mats ($175), Vehicle Dynamic Control ($600), and a Premium Package ($3,200) that tacked on leather upholstery, Bluetooth connectivity, Bose Audio, and more. The total bill, including a $625 destination charge, came to $29,490. In the opposing corner was a 2008 Honda Accord Coupe EX-L V-6 with a six-speed manual transmission, 18-inch alloy wheels, and featuring almost identical equipment but coming in slightly less at $28,945, including a $635 destination charge.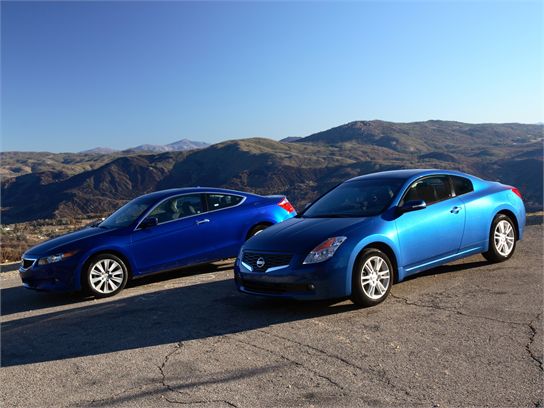 Page 3
Honda and Nissan promote these coupes based on sporty styling, impressive driving characteristics, and comfort, among other things. With that in mind, we spent days driving the cars throughout Orange County and the mountainous areas of northern San Diego County to determine which vehicle offered the preferred ride, superior interior based on materials and layout, more engaging powertrain, and better overall value. You'll find answers to those questions here, but to get an idea of how potential consumers viewed the Altima Coupe and Accord Coupe, jump over to the results of our USC/UCLA tailgaters survey, where we went to gauge the interest of potential customers in the targeted demographic.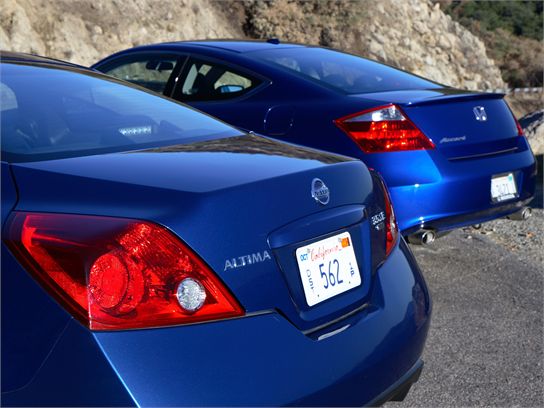 Page 4
Despite returning only 17.5 mpg, we give the performance nod to the 2008 Honda Accord Coupe. Our editors' recognized the Accord's "smooth, zippy acceleration" and complimented the 3.5-liter V-6's intoxicating exhaust note, well-tuned throttle response, and ample torque for pulling through corners without the need to downshift. Quite the opposite – the engine note failed to alert us to the fast-approaching rev limiter, resulting in a pinging tachometer needle and an unexpected need to upshift. Thankfully, the six-speed manual offered slick, seamless shifts and a light-effort clutch, yet two drivers complained of long throws and a shift lever too close to the driver in comparison to the Altima.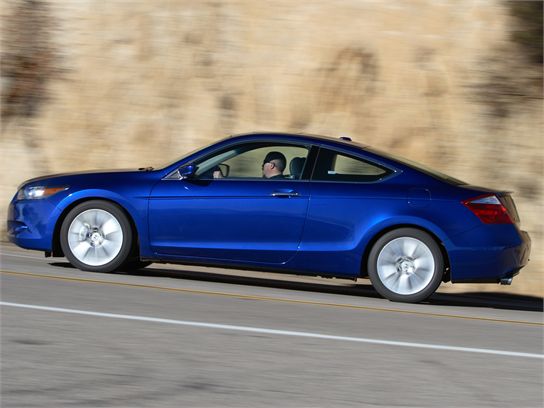 Page 5
It may have come in the loser in this category, but that should hardly suggest that the 2008 Nissan Altima Coupe 3.5 SE is a slouch. This capable two-door does, however, lack the off-the-line grunt of the Honda and its power delivery feels quite frenetic in comparison. Torque-steer is more prevalent as the Altima's front wheels work for traction, there's a need to downshift more often to keep the revs up, and the engine lacks the refinement delivered by the Accord's V-6. Toss in the less precise shifter and we just couldn't call the Altima the winner here. That being said, the Nissan deserves kudos for returning 19.5 mpg.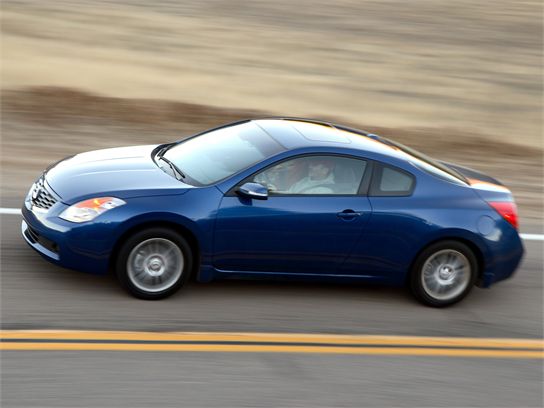 Page 6
Mention the Honda Accord and you'll probably start a conversation about reliability or maybe variations of the color white. That'll change after the masses experience the 2008 Honda Accord Coupe. It looks big and heavy, yet the Accord is surprisingly agile, with controlled body roll, desirable weight transition in corners, and ample stability in high-speed sweepers aided by our EX-L V-6's standard 18s. The coupe-specific suspension absorbs bumps well, but one tester found the trade-off to be a floaty highway ride, and all complained of brake fade after only moderate abuse. Steering offered a nice balance between light effort and responsiveness.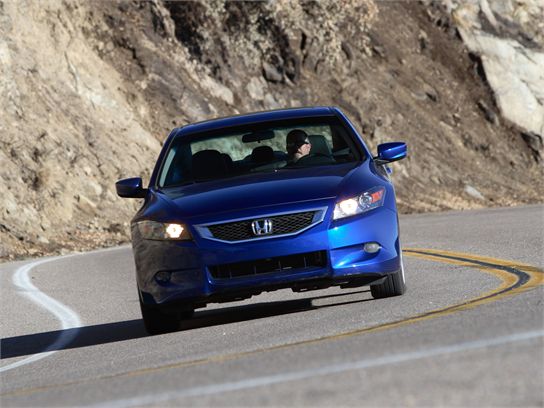 Page 7
Majority rules in tests like this, and since only one of the three editors preferred the Altima Coupe's wild handling, the other two ruled the Honda Accord Coupe the winner. That sole voice lamented the Altima's understeer but went on to describe the car as "very predictable, and powering through corners with 17-inch tires squealing as you set up for the next straightaway leaves a smile on your face." Unfortunately, those smiles turn to frowns with the stiff ride, bump-steering that causes a temporary loss of control in corners, and vague steering feel on the highway. The brakes were too sensitive, but never lost their punch.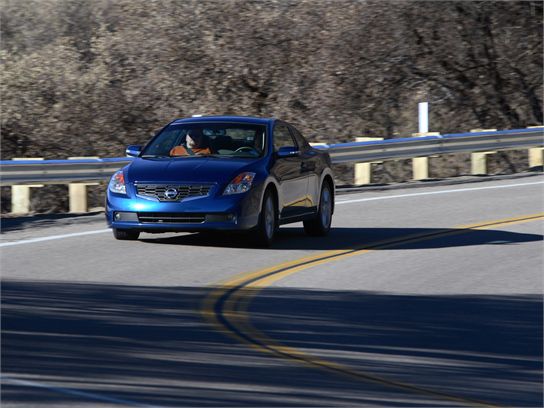 Page 8
Since these vehicles are built for everyday driving and not track days, they need to be comfortable, especially for the two most frequent occupants – the driver and front passenger. Our EX V-6 test car came with soft leather upholstery, dual-setting heated seats with more substantial bolsters than found in the Altima Coupe, and an abundance of supportive padding. Two drivers used power adjustments, including lumbar, to find suitable positions, though another driver suffered back fatigue after long distances. All enjoyed padded armrests, generous space, and the tilt and telescoping, leather-wrapped steering wheel. Interior noise from wind and 18-inch tires was evident but less pronounced than in the Altima Coupe.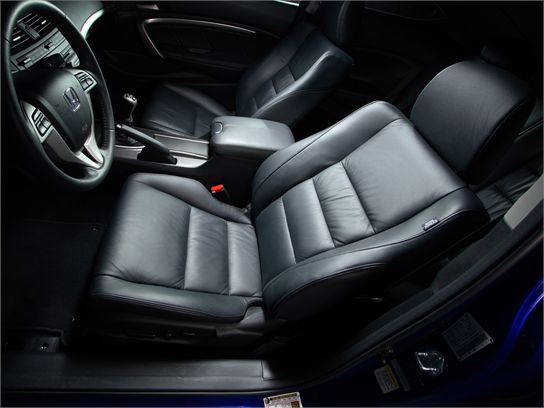 Page 9
Drivers who enjoy a more intimate experience may prefer the 2008 Altima Coupe, for out of the two vehicles tested here the Nissan boasts the more confining interior. Collectively, we preferred the more spacious Accord and noted the Altima's lack of a telescoping steering wheel and lumbar adjustment, power or otherwise. That the Nissan was noisier didn't help its cause. Points were awarded to the pro's column for comfortable and supportive seats, a plethora of padding on armrests and window sills and, as a side effect of the tighter cabin, door armrests within close proximity. Also, the gearshift is located in a more natural position.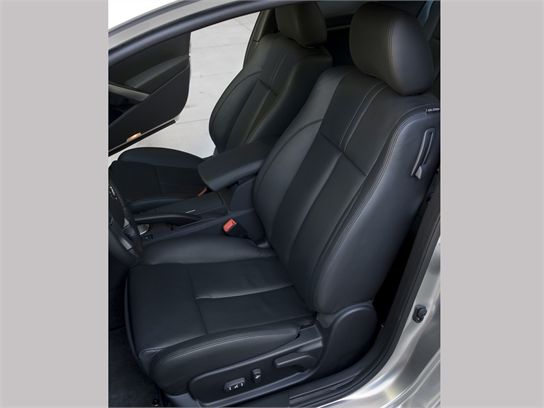 Page 10
If you transport rear-seat passengers with any regularity, do them a favor and buy a sedan, SUV, or a trusty station wagon. Selecting one of rides pictured on these pages would be our last choice, but as coupes go, they're not altogether bad, especially the Honda Accord. As is the case up front, the rear seat is comfortable and sufficiently spacious for non-basketball players, features wide armrests with cupholders, and can be accessed from the passenger side with the click of an outboard release button. Unfortunately, neither vehicle included a rear fold-down center armrest.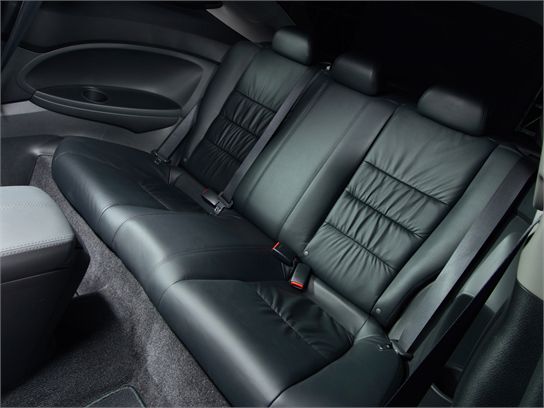 Page 11
Our trio of editors walked away from the Nissan Altima's rear seat test grumpy and sore. One entry read, "Even worse to get into than the Honda, especially behind the driver's seat. However, at least the lever to escape this people compactor is within reach." Of all the notes taken, that could be considered the most glowing. We're a relatively short bunch, so didn't have any major issues with overall room, and we applaud the employment of an inboard release lever on the front passenger seat. But the Altima Coupe's rear seat provided more of a challenge to get in and out of and was less comfortable than the Accord's.