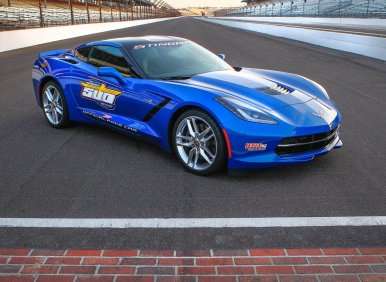 As quarterback for the Indianapolis Colts, current San Fancisco 49ers head coach Jim Harbaugh led numerous winning drives in front of throngs of Indy fans—and now he's scheduled to do the same thing once again, only this time he'll be driving a 2014 Chevrolet Corvette Stingray. Well, that and moving from the gridiron to the Greatest Spectacle in Racing.
Yep, Harbaugh has been selected to drive the 2014 Chevrolet Corvette Stingray in the nameplate's record-setting 12th appearance as the Indy 500 pace car. But it's not just because of Harbaugh's ties to Indy. It turns out that the former Pro Bowl QB also is principal owner of the Panther Racing team that will field two cars at this year's event. Naturally, both will leverage Chevy power in their quest for the checkered flag this year, with J.R. Hildebrand and Townsend Bell behind the wheels.
"As a longtime racing fan and someone who has always followed the Indianapolis 500, the honor to drive the pace car comes as a tremendous thrill," said Harbaugh. "Doing it in the all-new 2014 Corvette Stingray makes it even better. It's an iconic car leading an iconic race."
"It's great to have a true racing fan like Jim Harbaugh drive the Corvette pace car," added Jim Campbell, U.S. vice president of Performance Vehicles and Motorsports. "He personifies the Indianapolis 500's spirit of competition—and he's a true athlete, just like the all-new Corvette Stingray."
For more about the 2014 Chevy Corvette Stingray's upcoming stint at the Brickyard, see: http://www.autobytel.com/chevrolet/corvette-stingray/2014/news/2013-indy-500-pace-car-2014-chevrolet-corvette-stingray-116753/.