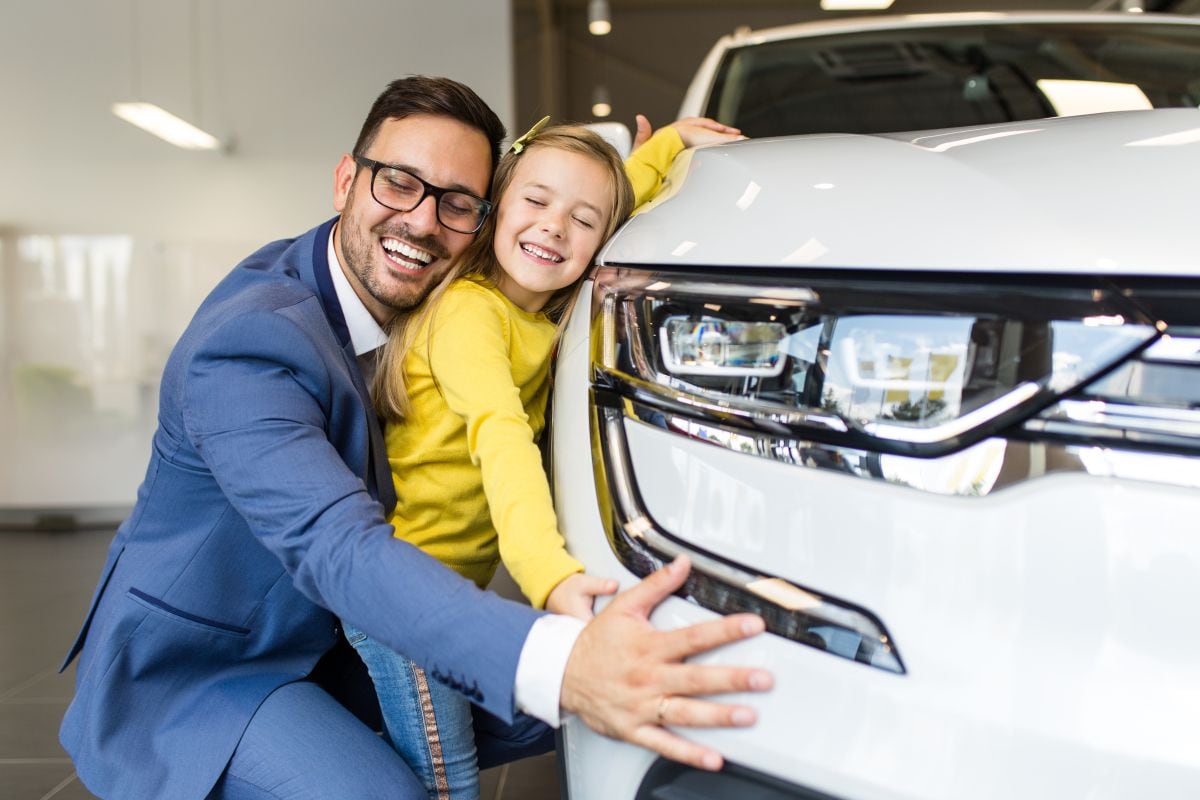 AdobeStock 2327762861
Many times, the task of getting a new car comes into play when kids enter the picture. Either your little two-door Mini isn't going to be practical once baby comes along, or maybe now that you're a family of 5, the backseat of the family sedan just doesn't cut it anymore. No matter what the situation, when you have kids, the car buying process should factor them in too.
The way kids can affect a new car purchase reach far beyond just the space they'll actually inhabit once those cute little bottoms are strapped into the seat. The gear kids need to survive is something to consider, too. A three-row vehicle makes sense on paper if you have three kids, but if neither of them can get in the third row on their own, you might be presented with a bigger problem. And sure, you won't always need that double stroller, but what about hockey sticks, and soccer balls and all of that camping gear they need for the scouts weekender? Especially if you're purchasing a vehicle that you plan on keeping for the long haul, all of these scenarios are important to consider.
So, what does this all mean? It's extremely important to take your kids along with you when it's time to shop. If you do your homework ahead of time and do some planning ahead, this process can be a whole lot easier than it sounds.
Here's how you do it:
Don't head to the dealer and just browse. This goes for ANY car shopper — if you show up not knowing what you're looking for or what's important to you, things can go haywire. And with kids in tow, you're on borrowed time before the boredom turns into chaos. Narrow down your prospects to a maximum of three, and use the vehicle builder online to determine what features and equipment you'll get within your budget. Then, double check your work and make sure it fits into your budget using Autobytel's payment calculator. Finally, visit your local dealership's website and make sure they have the model and trim level you want in stock.
Make sure you've got all the kids' safety seats, the stroller, etc. and get to the dealership early. Ask the salesperson to see the exact model and trim level you want, and let them know you've already checked their inventory online.
Here's where the important stuff comes in: How easy is it to install your safety seats? How much room do you have up front in your usual seating position with the car seat installed? How easy (or difficult) is it to get into the third row? Does the stroller fit? Is it too hard to get to the kids to buckle themselves before you check them? No matter how pretty the color is or how great the radio sounds, the way your family fits into the car is the most important part. And until you run through all the paces, you won't know if it's the right vehicle for you.
No matter how much of a smokin' deal they're offering, don't get pulled into the office to start talking numbers when the kids are with you. Politely tell the salesperson that you need to get the kids over to Grandma's house (or to the babysitter), and then you'll be back to start the deal.
If your deal falls through or you still want to try another car before you sign on the dotted line, repeat the process and try again. Happy car shopping!