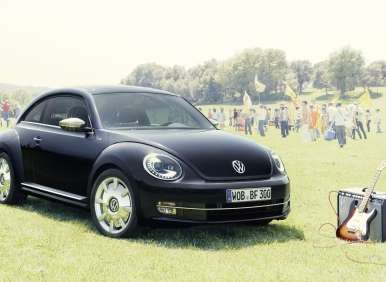 Volkswagen had earlier announced it was getting into the premium-branded audio game with the 2013 VW Beetle Fender Edition—backed by an assist from the same sound experts responsible for Fender guitars—and that model is now taking to the stage with an MSRP of $24,440. That's the price of admission with a standard 2.5-liter I5 engine, mated to a five-speed manual transmission and producing 170 hp and 177 lb.-ft. of torque, and the car also is available with the automaker's Tiptronic six-speed automatic, for a $1,100 premium. Want upgraded power to go with your upgraded audio system? Don't fret, since Volkswagen also will offer the Fender package with the Beetle Turbo, starting at $28,130 and packing a 2.0-liter forced-induction I4 that serves up 200 hp and 207 lb.-ft. of torque; swap out that car's DIY transmission for a six-speed DSG automatic and the Beetle will shift for itself at $29,200.
Regardless of powertrain, the 2013 VW Beetle Fender Edition also features a standard tilt/slide panoramic sunroof, a leather-wrapped multifunction steering wheel, keyless access, push-button ignition, and a touchscreen head unit to control its hi-po audio system. All of which is merely the opening act for the Fender-specific features that are detailed below.
2013 VW Beetle Fender Edition: Checking the Package
Three years in the making, the audio system in the 2013 VW Beetle Fender Edition was custom tailored to meet the acoustics of the Bug's cabin and is—according to Fender— "highlighted by uncompromised clarity at low or high volumes, powerful bass response and detailed midrange tones that combine to recreate the raw emotion of a live performance."
The system accomplishes that feat with a 10-channel amplifier that delivers 400 watts of power, pushing the music through nine concert-quality speakers that include:
Two Fender Deluxe Tweeters, with neodymium magnets, designed to minimize distortion while revealing "the harmonic richness of voices and instruments."
Two 16-cm dual-voice-coil Fender Twin Speakers that were specifically developed for high-volume performance.
One 20-cm Fender Bassman Subwoofer, also with dual voice coils and a neodymium magnet, as well as glass-fiber-reinforced foam paper, for "powerful and precise bass response."
Also in the mix are a pair of 16-cm rear speakers and two 50-mm rear tweeters that feature the same proprietary Panasonic technology as the rest of the units.
The 2013 VW Beetle Fender Edition leverages some classic Fender fashions, too. In the cabin, for example, the car's dashboard now shows off the iconic "sunburst" pattern that has helped make Fender guitars so distinctive over the years; turbocharged Fender models also welcome seating upgrade with V-Tex leatherette surfaces and exclusive cloth inserts.
On the outside, the 2013 VW Beetle Fender Edition wears a Deep Black Pearl Metallic finish, set off by brushed-chrome mirrors, Bi-Xenon headlights and LED daytime running lamps,
The 2013 VW Beetle Fender Edition is at dealerships now—and, as an FYI, so are VW Passat and VW Jetta models that offer the Fender premium sound system.