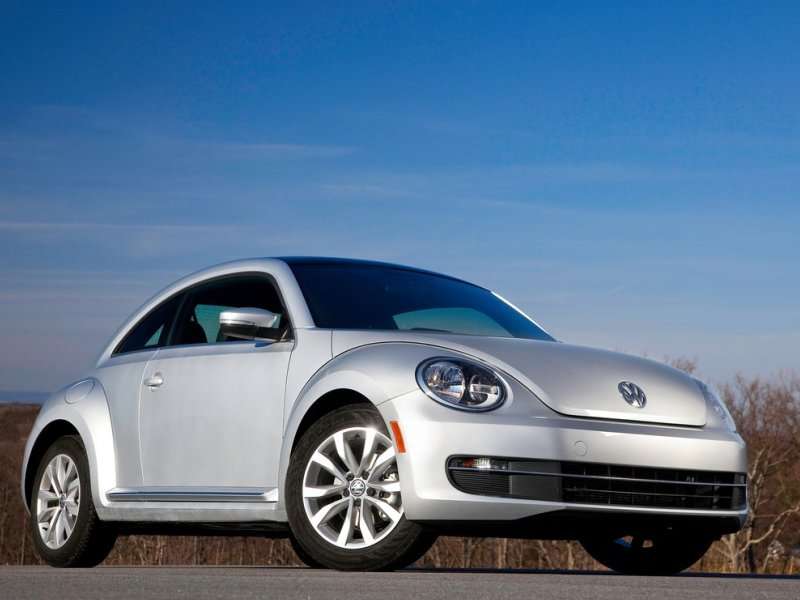 Volkswagen's penchant for oddly cylindered engines seems to have run its course, as the company is ditching its naturally aspirated 2.5-liter I5 powerplant—long a mainstay of the lineup—for a 1.8-liter 4-cylinder turbo in the 2014 VW Beetle and other entries. The new motivator also features Volkswagen's TSI direct-injection technology, and that plus forced induction does, indeed, deliver a replacement for displacement.
Thus, as the new standard powerplant for the 2014 VW Beetle (and Beetle Convertible), the engine provides 170 hp (unchanged from the I5) and 184 lb.-ft. of torque (up 7 lb.-ft.), along with what the company claims will be "highly competitive fuel economy." Specific EPA ratings are not yet available for the 2014 VW Beetle with its new engine, but the 2014 VW Jetta, which sees the same engine swap, raises its ratings by more than 4 percent/16 percent/11 percent with its automatic transmission and 13 percent/8 percent/15 percent with its manual.
The 2014 Volkswagen Beetle also moves from a hydraulic power-steering system to an electromechanical one, which also will help with its fuel-economy ratings, and the automaker will deploy its VW Car-Net telematics platform to the Bug as well, allowing drivers to benefit from automatic crash notification, quick access to roadside assistance, stolen-vehicle location service, boundary and speed alerts and improved point-of-interest (POI) functionality in Beetles with navigation. Also new for the 2014 VW Beetle: An available rearview camera system that will have late availability in the more premium members of the lineup.
Beyond these significant content changes, the 2014 VW Beetle has its roster reshuffled to showcase two new players.
2014 VW Beetle: Performance Models
To avoid any possible confusion with the new 1.8-liter turbo that's standard in the 2014 VW Beetle, last year's Beetle Turbo gets reconfigured as part of Volkswagen's performance-oriented R-Line. The 2014 VW Beetle R-Line retains a hi-po 2.0-liter 4-cylinder turbocharged engine—but now enhanced to make 210 hp to go with its 207 lb.-ft. of twist—and is further fine-tuned with R-Line bumpers, sill plates, cabin appointments and badging.
Volkswagen is bringing back a classic name from the past, too: Marking the 40th anniversary of the original Gelb Schwarzer Renner (Yellow Black Racer), the 2014 VW Beetle GSR brandishes the same potent 2.0-liter turbo as the R-Line version, but it shows off a dynamic black-and-yellow color theme taken from the 1970s edition.
The exterior, for example, is highlighted by bold black striping and graphics on a yellow background, then set off by 19-inch aluminum-alloy wheels that display silver-painted brake calipers. The interior of the 2014 VW Beetle GSR continues with the same color scheme used in accents like its black leather-wrapped steering wheel with yellow stitching. Other features offered by the GSR include:
Black exterior mirror caps and side-skirt graphics
Black sport seats and floor mats with yellow stitching
An exclusive "GSR" shift lever
Fender audio
LED exterior lighting
Ambient interior lighting
Aluminum-alloy pedals
Drivers also can choose from two different roof styles with the 2014 VW Beetle GSR, with the coupe offering a panoramic sunroof and the convertible providing an easy-to-enjoy cloth top.
Be aware, however, that the 2014 VW Beetle GSR will be available in very limited numbers, with Volkswagen building total of 3,500 units but importing roughly half that number to the United States.