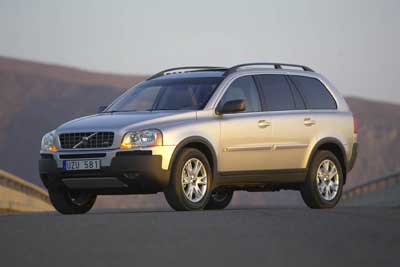 Life near the 45th parallel can be brutal when the days grow short and the temperatures fall. Snow, ice, gloom, and frigid temperatures make venturing outside the home or office pure misery, especially if you're hoofing it. But even with a set of keys in your Thinsulate-gloved hand, using your car isn't much consolation…at first. Count yourself lucky if you don't need to chip a layer of ice off the glass or a foot of wet, heavy snow off the hood, roof, and trunk. Then, get into the icy interior, crank the engine, and hope the battery has enough juice to fire the motor. Once the car is running, now you've gotta wait for what seems like hours for the heater to start pumping warm air into the cabin. And don't breathe while you're waiting, lest you fog the glass and delay your departure further. Fortunately, there are cars on the market that can take the chill off a winter's day and make life more comfortable and convenient. To find the best vehicles for driving in the winter, Autobytel's data division, the Automotive Information Center (AIC), sliced and diced the standard and optional equipment lists of every make and model on the market. AIC looked for the vehicles that offered four- or all-wheel drive, stability control, heated front seats, heated side mirrors, an engine block heater, and headlamp washers (that last to clean road salt from the lights at night). Based on AIC's research, nine vehicles meet these criteria, and when you add factory remote starting – which lets you start the car from inside the house so it can warm up before you get in – just one vehicle bubbled to the top of the list. Our editors then subjectively ranked the remaining eight cars and SUVs in the order in which they would personally buy them for driving in the snow and sleet. The contenders, not surprisingly, originate from regions of the world familiar with nasty winter weather: two Cadillacs, the SRX and the STS, two versions of the GMC Envoy, and five Volvos (S60, S80, XC70, XC90, and V70) competed for the rankings. When it comes to winter driving, keep in mind that the kind of tires you choose can have a dramatic impact on any vehicle's ability to travel in snow. A good set of winter tires, like the Bridgestone Blizzak or Goodyear Ultra Grip, could mean the difference between spinning into the ditch or making it to your destination no matter what kind of vehicle you own. And don't forget to winterize your vehicle before the white stuff flies – check the antifreeze, keep your washer fluid reservoir topped off, make sure your battery has enough juice, and replace your old wiper blades. Finally, just in case you do pirouette into a snowbank and become stranded, stowing a survival kit including warm clothes, a blanket, and non-perishable food in the trunk is always a good idea. Or, you could move someplace like San Diego, Phoenix, or Miami, where weather forecasters work themselves into a frenzy if the mercury dips below 50 degrees. Wimps.
1st Place
2006 Cadillac STS Surprise, the best vehicle for winter driving, based on criteria detailed in the introduction, is not a sport-utility vehicle. Rather, it's the 2006 Cadillac STS. According to AIC's data, this luxury sedan is the only car on the market today that combines all-wheel drive, stability control, heated front seats, heated side mirrors, an engine block heater, and headlamp washers with a factory-installed remote starting system. Given that Cadillac is based in Detroit, this should come as little surprise – Michiganders possess more than a passing acquaintance with the rigors of winter. But the STS isn't just for folks living in The Great White North. This is a fine luxury sedan regardless of climate, comfortable, powerful, stylish, and refined. It might not have the athletic moves of a BMW or exude the quality of a Lexus, but when it's 10 below zero and the STS is warming itself up in the driveway while you triple layer your clothes and enjoy a hot cup of cocoa, you're not gonna care.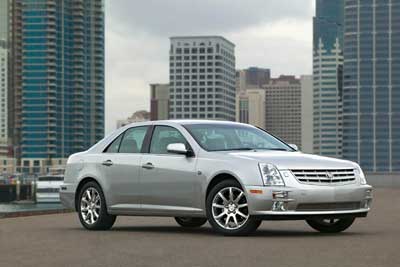 2nd Place
2006 Volvo V70 Take a Volvo S60 sedan, swap the trunk out for a glass-encased cube, and you've got the 2006 Volvo V70 station wagon. For 2006, the only V70 offered with all-wheel drive is the performance-tuned R model, which has a 300-horsepower, turbocharged engine connected to a six-speed manual transmission or an optional six-speed automatic with manual gear selection. This year, the V70 R's AWD system is enhanced with Instant Traction, which can deliver up to 50-percent more torque to the rear axle than before, especially useful when accelerating from a standstill. Roomy, comfortable, safe, and handsome – for a station wagon – the 2006 Volvo V70 R makes sense whether the weather is frightful or delightful.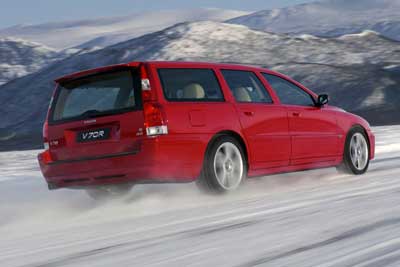 3rd Place
2006 Volvo S80 It's getting old and nobody pays it much attention anymore, but the 2006 Volvo S80 is a compelling choice when snow and ice regularly blanket the daily commute. The S80 arrived in 1998 as a 1999 model, and was the first Volvo to wear the company's current strong-shouldered design theme. Standing the test of time, the S80's styling still looks fresh today. With a larger interior and a higher price tag than the S60, the Volvo S80 is appropriately more comfortable and includes a greater number of standard features. However, the only engine for 2006 is the same 208-horsepower, turbocharged 2.5-liter found in Volvo's smaller cars, and with the added weight and optional AWD system of the S80, this "flagship" sedan's dry-pavement performance is uninspired. Good thing this list prioritizes skill at negotiating slick, icy roads instead.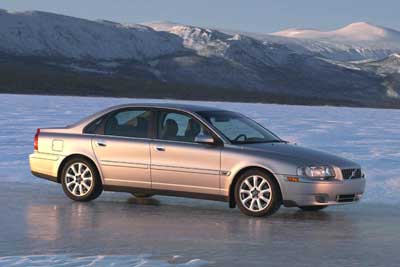 4th Place
2006 Volvo XC90 The 2006 Volvo XC90 is this Swedish automaker's entrant in the luxury suv sweepstakes, a comfortable and surprisingly capable vehicle that boasts an impressive number of safety features and a strong but not thirsty optional V8 engine. That engine, a compact 4.4-liter unit making 311 horsepower, is our clear preference over the standard 208-horsepower, 2.5-liter turbo motor, which just doesn't have enough oomph for a vehicle of this size. A third-row seat is also standard on the V8 model, but only kids will be comfortable back there. Fold it down, and the XC90 features lots of cargo space.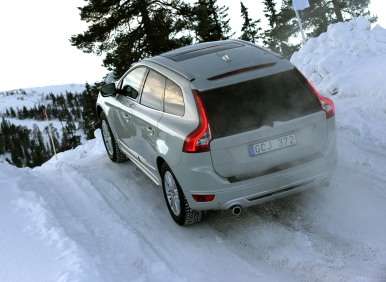 5th Place
2006 Cadillac SRX If our best vehicle pick, the Cadillac STS, doesn't work for you, try the roomier 2006 Cadillac SRX on for size. Yeah, we know, too confusing. The SRX is the one that looks like an SUV, not the smaller Cadillac sedan or the sporty Cadillac roadster. Just think of it as the Cadillac station wagon. The SRX is offered with a 260-horsepower V6 or a 320-horse V8 engine, and features the ride and handling of a car combined with the comfort and utility of an SUV. There's a third-row seat, too, but it's for kids only.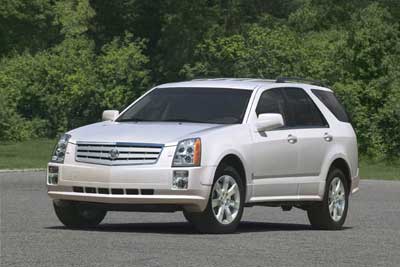 6th Place
2006 Volvo S60 Ford Motor Company might own Volvo these days, but this proudly Swedish company continues to build cars and SUVs that can easily tackle the occasional blizzard or five that commonly strike its homeland. The 2006 Volvo S60 is the company's entry-luxury sedan, and is offered with all-wheel drive in sensible 2.5T trim or sport-tuned R fitment. Stylish, safe, and comfortable, the S60 2.5T comes with a 208-horsepower, turbocharged five-cylinder engine and a base price under $33,000. The high-performance S60 R features a 300-horsepower motor, a six-speed manual, and a starting price close to $39,000.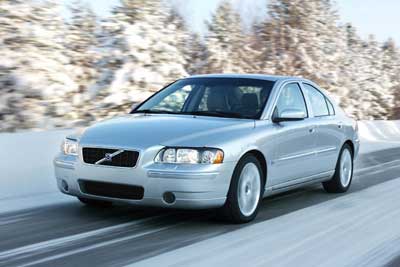 7th Place
2006 Volvo XC70 Take a Volvo V70 station wagon, raise the suspension, add some body trim, and you've got a pseudo-SUV called the 2006 Volvo XC70. Affectionately known as the Cross Country, the XC70 is the antithesis of the V70 R – where the R model excels on pavement, the XC70 is the more nimble vehicle on light-duty forest trails thanks to increased ground clearance and better approach and departure angles. The XC70 is equipped with Volvo's ubiquitous 208-horsepower, turbocharged, 2.5-liter inline five-cylinder engine, which is barely adequate for a vehicle of this size and weight.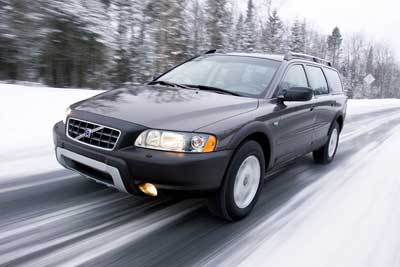 8th Place
2006 GMC Envoy Sometimes, you can't beat a traditional SUV, and that's especially true when towing and four-wheeling are on your to-do list. The 2006 GMC Envoy is available with all of our pre-selected criteria now that StabiliTrak stability control comes standard, can tow up to 6,600 pounds, and is available with an Autotrac 4WD system that includes low range gearing. Select between a 291-horsepower, 4.2-liter inline six-cylinder or 300-horse, 5.3-liter V8 – our pick is the V8 for its extra torque and Active Fuel Management system that shuts down half of the cylinders during cruising.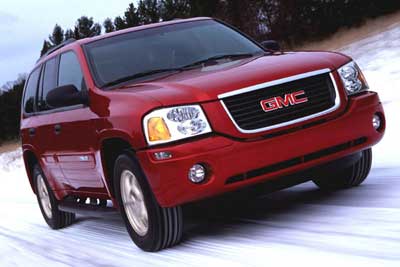 9th Place
2006 GMC Envoy XL Take the same attributes and equipment found on the GMC Envoy, stretch the wheelbase, add a third row of seating, and – – you've got the 2006 GMC Envoy XL. The Envoy XL is available with the same 291-horsepower, 4.2-liter inline six-cylinder or 300-horse, 5.3-liter V8 as the regular-strength Envoy, and comes with standard StabiliTrak stability control. Autotrac 4WD is offered, too, but we don't recommend four-wheeling in this SUV due to its long wheelbase and reduced breakover angle. Note also that the Envoy XL's maximum tow rating is 6,200 lbs., 400 less than the shorter five-passenger version.
Photos courtesy of the manufacturers