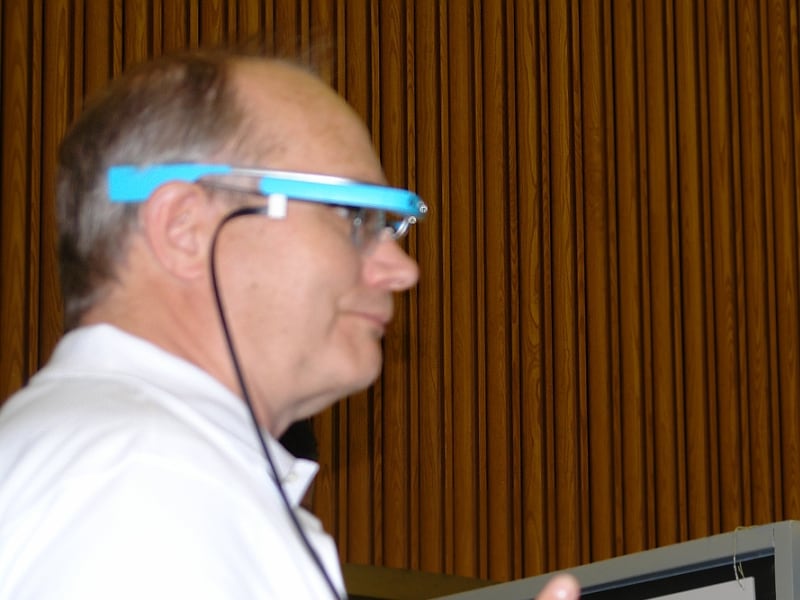 A group of folks testing out Google Glass, the computer-enhanced "glasses" that project info into the wearer's field of vision, recently got to see one potential future of automotive manufacturing at GM's Orion Assembly in Michiganhome to the 2015 Chevrolet Sonic.
That's where the group of "Google Glass Explorers" saw how General Motors is testing similar wearable technology to help further improve the quality of its future products. As one example of this, GM demonstrated how its version of Glass could be used to teach manufacturing teammates successful manufacturing techniques by showing first-person videos on the device. And to prove how effective that method could be, the Explorers were able to experience it all for themselves, first trying their hands at applying corrosion sealant before seeing a video, and then again after.
One of them was Kevin P. Trovini, who also happens to be chair of Business & Technical Writing at Henry Ford College in Dearborn, Mich., and according to his account on GM's Fastlane Blog: "The difference was obvious: For such a technique-reliant procedure, the learning curve was greatly improved by the ability to pracice the skill while simultaneously viewing a demonstration of correct form."
Also, while those kinds of quality innovations are being evaluated for tomorrow's cars, the Bowtie brand is continuing to upgrade the current products at the plant. That includes a couple of notable changes for the new model year, too.
First off, like much of the 2015 Chevy roster, the 2015 Chevrolet Sonic will offer 4G LTE connectivity and mobile wi-fi capability, complete with a 3GB/three-month data trial. Designers also have introduced "Blue Velvet" as a new exterior color, while the premium LTZ trim will join the hi-po RS model in providing a 1.4-liter turbo engine as standard equipment. That unit serves up a peppy 138 hp and 148 lb.-ft. of torque, yet also returns EPA grades of up to 29 mpg city/40 mpg highway/33 mpg combined.
With MSRPs that start at $14,245, along with both sedan and hatchback body styles, the 2015 Chevrolet Sonic is on sale now.
(Note: The 2015 Buick Verano is produced at Orion Assembly as well.)