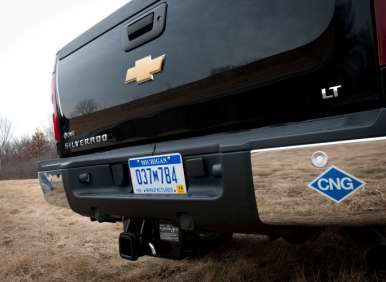 In an indication that it might be turning away from E85 ethanol fuel, General Motors has published information about two new bi-fuel pickup trucks that will be going on sale at the end of this month. Instead of E85, 2500 HD editions of the Chevrolet Silverado and the GMC Sierra will now be available with the option of transitioning from gasoline to compressed natural gas (CNG).
CNG trucks have long been a feature of the fleet vehicle scene, with both aftermarket conversions and some factory-backed initiatives being adopted by companies with access to either a robust CNG fueling network in their area, or their own on-site CNG setup. GM's decision to market these compressed natural gas trucks to fleet and retail buyers at the same time, however, could mark the company's shift from focusing on E85.
E85 ethanol fuel has become a target for energy critics who remain unimpressed with the poor mileage provided by engines running a dual gasoline / ethanol design. The fact that most ethanol fuel in the United States is derived from corn, which receives heavy government subsidies, is also a sticking point, as it encourages farmers to plant monoculture crops on land that could be put to use growing foodstuffs instead. America is the world's top producer of ethanol fuels, but only 1,900 fueling stations offer E85 gasoline across the country, which means that very few of the over eight million E85-compatible automobiles on the market can take advantage of this capability.
Compressed natural gas is even less common in the United States, with 34 states boasting CNG stations that are open to the public (less than 1,000 in total). However, GM's bi-fuel trucks can move back and forth between either energy source, making them more flexible than a CNG-only vehicle. The advantages of CNG as an automotive fuel are that it is less expensive than gasoline, which according to FoxNews.com can save commercial buyers roughly $2,000 per year for each bi-fuel vehicle in their fleet. Compressed natural gas also produces significantly fewer emissions when burned - roughly 25 percent less than gasoline. 98 percent of all CNG fuel used in the U.S. is produced domestically.
Each bi-fuel Chevrolet 2500 HD and GMC Sierra 2500 HD will be outfitted with a 6.0-liter V-8 engine, a unit which currently produces 360 horsepower and 380 lb-ft of torque when run on gasoline. No power numbers have been provided at this time relating to CNG operation, although GM has stated that fuel consumption when burning compressed natural gas would match that of the same motor running on gas. The vehicles will be additionally protected by the same warranty coverage that would be offered on a standard, gasoline or diesel-only pickup. The bi-fuel option will not impact the utility of either vehicle, as there is plenty of room under the body of the full-size trucks to mount the large CNG tanks required to safely store the alternative fuel.