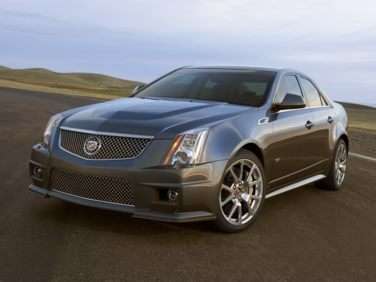 Want to make sure you're getting the most out of your new 2013 Cadillac CTS V-Series? So does Cadillac itself, and the brand is ready to help thanks to the launch of the Cadillac V-Series Academy. Located outside of Las Vegas at the Spring Mountain Motor Resort & Country Club, the hi-po learning experience leverages a track and curriculum designed by motorsports legend Ron Fellows, whose long list of victories includes two class wins at Le Mans in the Chevrolet Corvette.
Both one- and two-day programs are available, with each offering on-track and in-class instruction in performance-driving skills like visual scanning, threshold braking, corner preparation and car control. Further, with class sizes limited to just 12 drivers per session, attendees will benefit from a small student-to-teacher ratio and plenty of personalized attention.
Tuition is $1,295 for the one-day class with the 2013 Cadillac CTS-V and $2,295 for the full two-day course, with more information available at www.CadillacVAcademy.com.
"The experience of driving a Cadillac V-Series car is extremely convincing," said Don Butler, vice president of Cadillac marketing. "This new partnership with Spring Mountain Motorsports Ranch opens a new experience in a truly luxurious setting for consumers to enhance their skills and put a series of world-class performance cars to the test."
2013 Cadillac CTS-V: A Look at the Lineup
The 2013 Cadillac CTS-V portfolio won't see many big changes for the new model year, but that shouldn't matter to enthusiasts, since the cars are already among the most powerful and fastest vehicles on the road today. In fact, the CTS-V is literally the quickest production sedan in the world, with a 0-60 time of just 3.9 seconds. Of course, all three models, also including the 2013 Cadillac CTS V-Series Coupe and Wagon, provide drivers with an arsenal that includes a supercharged, 6.2-liter V8 engine making 556 hp and 551 lb.-ft. of torque, Brembo stoppers with new-for-2013 two-piece front rotors, and a driver-selectable, dual-mode Magnetic Ride Control suspension. Available performance upgrades include heated Recaro front sport seats, and yes, a six-speed manual transmission is standard, with a six-speed paddle-shifting automatic available as well.
Naturally, a wealth of luxury features can be found on the spec sheets, too, highlighted by a 10-speaker Bose Surround Sound audio system, a rearview camera setup, adaptive forward lighting, and an advanced nav system with voice guidance, 3-D color imaging, and an eight-inch LCD screen.
As for the vehicles themselves, the 2013 Cadillac CTS V-Series Sedan, Coupe and Wagon can only be found at local Cadillac dealerships, all priced from $64,515.