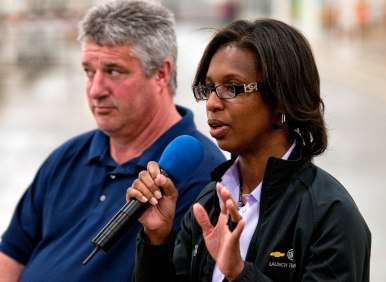 As General Motors continues its comeback with a string of well-received new vehicles, the automaker is now turning its focus toward the people shopping for those vehicles. GM recently introduced Alicia Boler-Davis as its new U.S. vice president of Customer Experience, and also has launched a facilities-upgrade program involving more than 3,400 of its American dealerships.
Boler-Davis has been with the automaker since 1994, assuming a number of leadership positions within the engineering ranks before taking over her prior position as plant manager at GM's Orion Assembly facility in Michigan. A graduate of Northwestern University and Rensselaer Polytechnic Institute, she will report directly to Mark Reuss, president of GM North America.
"The breakthrough change that Alicia led as plant manager at Orion Assembly, while launching the all-new Chevy Sonic and Buick Verano needs to be brought to our customer experience," said Reuss. "What I admire about her is her candor with leaders and strength of commitment she engenders among her team."
As for GM's Essential Brand Elements initiative, this comprehensive, wholly voluntary program will support dealers in updating signage, creating new, modern showrooms and customer lounges—with amenities ranging from free Wi-Fi to salons and cafes—and completing extensive sales and service training designed specifically to boost customer satisfaction.
"We're investing in our retail network because today's new vehicle customer expects a shopping experience to match the character of the brand they're considering," said Reuss. "Our dealers also recognize this and are making their own significant investments so they better serve the needs of our customers. These investments are good for our business and are great news for the communities they serve."
That's a sentiment shared by dealers, too, like Steve Rayman. The owner of Steve Rayman Chevrolet in Atlanta opened his thoroughly renovated store earlier this year, saying that: "My philosophy has always been to take care of my customers, so I wanted the new store to be a destination, not just a dealership. People's time is valuable, so we designed it to be a place where everybody would feel welcome and comfortable. The new environment puts customers and employees in a good mood, and that means everything to me."