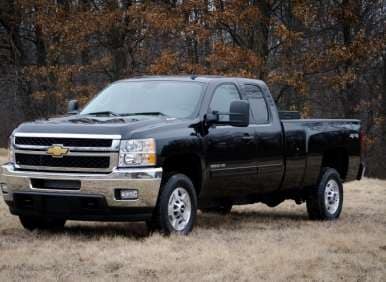 The 2012 Honda Civic Natural Gas—the only mass-market retail car in the country to run on compressed natural gas—is about to get some more competition at the other end of the size spectrum: General Motors has just announced that bi-fuel versions of the 2013 Chevrolet Silverado 2500HD and 2013 GMC Sierra 2500HD—capable of using either regular gasoline or compressed natural gas, and seamlessly switching between the two—are now being built for both fleet and retail customers at its assembly complex in Fort Wayne, Ind. (Although the actual CNG systems are installed by one of GM's Tier 1 suppliers, IMPCO.)
The news marks an important momentum booster for CNG proponents, who like to point out that the fuel is both cleaner and less expensive than gasoline, and that the United States has plenty of it available for consumers.
Specific advantages of the Silverado and Sierra bi-fuel pickups include:
A combined gasoline/CNG driving range of 650 miles, the longest of any OEM-produced bi-fuel pickup in America
Standard and long-box configurations, both with more bed space than their OEM competitors
Two- and four-wheel-drive powertrains
A no-hassle, turn-key ordering process
Extensive warranty coverage, thanks to three-year/36,000-mile new-vehicle protection, a five-year/100,000-mile limited powertrain warranty, and a five-year/100,000-mile vehicle-emissions warranty
All the truck capabilities one expects from a V8-powered full-sized HD pickup
2013 GM Bi-fuel Pickups: A Quick Case Study
The new 2013 bi-fuel pickup trucks from General Motors do come at an $11,000 premium over their gas-only counterparts, but much of that extra cost can be made back in fuel savings, and there are other benefits to consider as well. Just check out this feedback from Nate Pumphrey, director of fleet operations for the Chesapeake Energy Corp.:
"At Chesapeake, we are converting our fleet of more than 5,000 vehicles to run on natural gas, and having options from GMC and Chevy is critical to help us reach our conversion goal. Following our full conversion, we will save $11 million to $12 million annually on fuel costs.
"As a fleet manager, the stable price of natural gas is another major benefit that helps me budget more accurately, and the fuel's reduced emissions align with Chesapeake's commitment to environmental excellence."
Added Ed Peper, general manager of GM's Fleet and Commercial Operations: "The bi-fuel Chevy Silverado and GMC Sierra provide customers with choices in advanced propulsion technology, and because CNG is a clean-burning, domestically produced fuel, it has wide appeal. The addition of a full-size bi-fuel pickup truck to GM's fleet portfolio is another milestone in putting the customer first in everything we do—by offering great products, innovative solutions and a great customer experience."