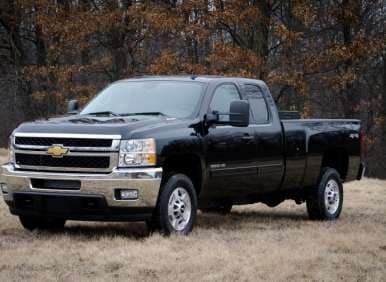 General Motors is making going greener a little easier in their heavy duty trucks. The company has introduced the bi-fuel 2013 Chevrolet Silverado and GMC Sierra 2500 HD extended cab pickup trucks. The vehicles include a compressed natural gas (CNG) capable Vortec 6.0-liter V-8 engine that GM says seamlessly transitions between CNG and gasoline fuel systems. CNG trucks are nothing new, but what makes this announcement important is that the new GM HD twins can run between fuels "seamlessly."
CNG can be a cheaper fuel that provides similar fuel economy and power to a gasoline engine. This natural gas can be combined with biofuels during production, and it releases significantly less emissions than their gasoline counterparts. But a big problem right now is availability. CNG is quite far from being offered at every corner fuel station. There are ways of refilling a CNG vehicle at home, but it requires special equipment and it may take as long to fill as a plug-in hybrid vehicle.
By combining the usefulness of CNG with the availability of gasoline, it creates a truck that has the ability to work cheaper and cleaner, while also not having to worry about if there is enough fuel to get it home.
GM is getting into the CNG game by building the trucks at its Fort Wayne, Indiana plant, but before they reach the consumer, the trucks are outfitted with CNG bi-fuel delivery and storage system at one of GM's trusted "Tier One" suppliers (likely the Indiana-based Productive Concepts that already converts vehicles for GM.) Although these trucks leave the factory to get outside work, they are still covered under the three-year, 36,000-mile new vehicle limited warranty and five-year, 100,000-mile limited powertrain warranty given to all new Silverado and Sierra 2500 HD trucks.
The bi-fuel trucks utilize the same 6.0-liter V-8 that is standard on all 2500 Silverado and Sierra HD trucks. Power ratings were not given at this time, but it is expected to be similar to the 360 hp and 380 lb-ft of torque offered on the standard gasoline engine. GM says that the combined CNG/gas fuel capacity offers a range of over 650 miles. This is about the same for the gasoline-powered 2500 series trucks, so the bi-fuel trucks have the ability go cover the similar distance for less money.
This is good news for both fleet and retail customers. Commercial fleets that need HD work trucks can lower their bottom line if they are near a CNG filling station or adapt their schedules to fill trucks during office downtime. Consumers may not have as much access to CNG refueling points, but they they can realize some savings (also feel more environmentally friendly) by utilizing some of the natural gas from home.
Plus, alternative fuel vehicles like the CNG Silverado and Sierra may qualify for the HOV lanes in some markets. It is easy to assume some people may give strange looks to a 2500 HD Silverado when it cruses by traffic with a low emissions vehicle HOV access sticker on it.
No word yet on pricing, but in the past, CNG capability has added a noticeable cost to the bottom line of a vehicle. Considering GM ships these trucks to an outside supplier before they hit the dealership, we can bet that there will be a significant figure added to the sticker price of these HD Silverados and Sierras. Hopefully government subsidies and tax breaks may lessen the blow to the wallet.
CNG capable Silverados and Sierras will be available on extended cab 2500 series HD trucks in standard and long box (there is no short box HD truck in the lineup.) This is offered with either two- or four-wheel drivetrain. Chevrolet and GMC will begin taking fleet and retail orders next month.