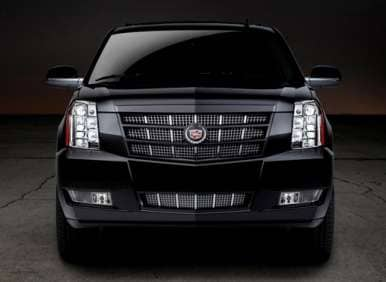 Although the Cadillac Escalade is enduring a fairly flat sales year, GM's ultra-lux SUV does remain a top choice among one particular group: vehicle thieves. In fact, in the latest report from the Highway Loss Data Institute—released in August—the Escalade was once again named the vehicle most likely to be stolen in this country, as it has for the past four years. But with Cadillac actually hoping to attract a slightly different target audience, the brand is launching five new theft-deterrence measures for the 2012 Escalade, Escalade Hybrid, Escalade ESV and Escalade EXT.
"The goal is to make the Escalade a very difficult target for thieves without any added inconvenience for customers," said Bill Biondo, General Motors' global leader for vehicle theft prevention. "The new systems work in the background and few people realize they are there, but they are strong added protections."
They include:
• . The automaker's latest, most sophisticated encryption system for the Escalade's key, key cylinder and ignition system; it helps prevent the Escalade from being started by anything else except for the proper key.
• . GM claims the system "makes it nearly impossible to maneuver the Escalade onto a flatbed."
• . The sensor can detect changes in the angle of the vehicle that could indicate it was being lifted for towing or maneuvered onto a flatbed, then set off an attention-getting alarm.
• . Capable of setting off the vehicle alarm if it detects "shocks" to the vehicle's condition, like those that occur if a window is broken, this sensor is geared toward preventing both property theft and vehicle theft.
• . It's designed to make it more difficult than ever to steal the Escalade's wheels and tires.
"Combined, these technologies comprise one of the most-extensive sets of theft-deterrent measures available for this type of vehicle and meet or exceed security specifications among global vehicle security analysts," Biondo said.
Of course, plain old common sense can make a huge difference in avoiding vehicle theft as well, so Cadillac also has the following advice for drivers:
• Never leave valuables in unlocked vehicles or in plain sight.
• Always park vehicles in well-lit areas or, if possible, inside locked garages.
• Never leave a vehicle running with its key in the ignition.
• In vehicles equipped with a remote-lock key fob, always use the fob to lock the doors, since this also arms the alarm system.
• Never install aftermarket remote-start systems that disconnect a vehicle's ignition/key-cylinder immobilizers.
• Always use wheel locks on a vehicle with premium wheels.
• Never leave your driver's license, registration or insurance certificate in your vehicle.
Adding GM's Onstar service can come in handy, too, especially now that it can be purchased as an aftermarket product in the form of OnStar FMV. Beyond all its other advantages, the OnStar system provides a number of features specifically geared toward theft prevention, like a remote ignition lock that can be activated if a break-in is detected, along with the ability to locate and remotely slow a vehicle in certain situations.
All of which may not speed up the sale of Escalades too much, but should at least help make sure that those who do buy them, keep them.