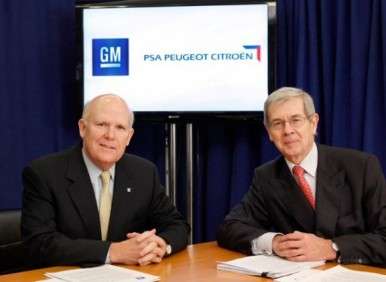 General Motors has signed an agreement with PSA Peugeot Citroen to create a "global alliance" that will allow the two companies to better attack the European auto market. GM's cross-Atlantic operations operate under the Opel and Vauxhall banners, and while the company has made extensive use of platform sharing between its global divisions a cornerstone of its current strategy, the ability to work together with PSA Peugeot Citroen opens up new possibilities for the American giant.
Both GM and PSA Peugeot Citroen claim that each side of the partnership will save roughly $1 billion over the course of the next five years in development costs, with the larger U.S. automaker grabbing 7 percent of family-owned Peugeot Citroen through the infusion of $1 billion in cash. The move comes on the heels of Opel and Vauxhall having lost just under that amount in 2011, red ink that spoiled the party over General Motors posting a $7.6 billion profit during the same period.
PSA Peugeot Citroen also posted a $578 million loss over the course of the past year, and unlike General Motors it is heavily dependent on European buyers. The manufacturer has in the recent past leveraged relationships with both BMW and Mitsubishi in order to remain competitive in engine and alternative energy technologies as it struggles to maintain its status as the second highest volume seller on the continent. This particular goal is made that much more difficult by the fact that according to USAToday.com Peugeot Citroen predicts a 5 percent drop in European car sales for 2012.
What else does this new alliance bring to the table for both parties? The pair will enjoy increased purchasing power when hammering out agreements with suppliers, as well as produce joint vehicle platforms in the compact and mid-size segments. The latter can be expected to come to market within the next four years. Crossover vehicles and small Euro-only minivans will also result from the combination of the engineering and design departments of both companies.
Peugeot Citroen joins Fiat in pursuing a closer relationship with an American cousin. The Italian brand is currently the owner of Chrysler and has begun to systematically replace its subsidiary's small and medium-size vehicle platforms with its own. GM's reliance on its Germany-based Opel design team in recent years indicates that it could be possible that future compact cars developed in partnership with Peugeot Citroen could eventually find their way to American showrooms.