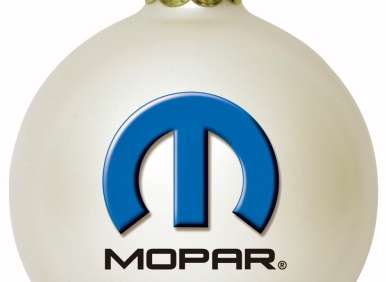 Regardless of whether you're buying a gift for your favorite auto enthusiast or your favorite auto, Mopar has a sackful of potential presents available this year, including these top 10:
: Coverage at the North Pole may not be perfect, but this portable Garmin navigation system from Mopar is well-equipped to handle driving in the U.S. The thin, lightweight system is easy to use and easy to install, and offers a multi-touch, dual-orientation wide-screen display, Bluetooth wireless functionality for hands-free calling, pre-loaded street maps and a number of nifty Garmin features aimed at making it easier to get where you're going.
: Passengers can surf the Web while the driver surfs through traffic with this 3G broadband Internet router. No cell cards or additional software are necessary, although a subscription is required (and sold separately).
: Designed by Mopar to help drivers handle a wide range of scenarios, the kit includes a flashlight, fleece blanket, jumper cables, a safety triangle to get the attention of other drivers, flat- and Phillips-head screwdrivers, pliers, two bungee cords and a pair of gloves.
: Guard your vehicle against theft with this industry-first system that offers 24/7 nationwide coverage, a $1,000 transferrable Theft Protection Warranty and real-time GPS-enabled tracking; available upgrades include full concierge services, emergency responder dispatch and onboard panic button. Mopar's EVTS also allows users to set speed and distance parameters, and receive text alerts if those limits are surpassed.
: Enhance your vehicle's cockpit with Katzkin leather seats and other accents, highlighted by embroidery, piping, two-tone color schemes, suede trim and more.
: Add extra cargo capacity by adding Mopar sport utility bars. They're made of heavy-duty silver anodized aluminum, can be attached to standard-equipment roof side rails and are compatible with all Mopar sport/cargo carriers.
: You can put those Mopar sport utility bars right to work with this easy-to-install, thermoplastic cargo holder, featuring gas-cylinder struts for superior ease of use.
: Plush, durable and color-matched to your vehicle's interior, these premium mats are backed with rubber nibs to prevent slipping and contoured specifically to individual cabins for a perfect fit. Many colors are available, as are all Chrysler, Dodge, Ram and Jeep logos.
: When interior protection is at a premium, these custom-fit heavy-duty mats are designed with deep grooves that keep water, sand, snow, mud and more off of your vehicle's carpet.
: These stainless steel-style sills add a dash of custom flair while also protecting interior sills from damage, and they're available with or without illumination.
"With more than 280,000 parts and accessories, Mopar offers ultimate customization and personalization," said Pietro Gorlier, president and CEO of Mopar, Chrysler Group LLC's service, parts and customer-care brand. "And for convenience, many of our parts and accessories are available on the Mopar eStore."