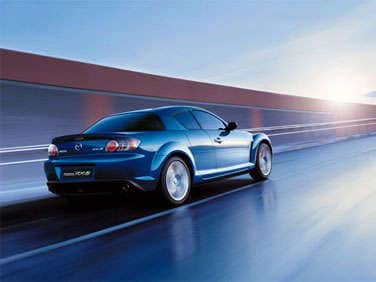 Longevity isn't something that can be taken for granted in the automotive world, and for some vehicles the party ends sooner than planned. Moving into 2012 there are a number of models that will no longer be gracing showrooms alongside their former stable mates as they find themselves discontinued for a variety of different reasons. Some of these cars have been replaced by more advanced vehicles, while others find themselves victims of fuel economy regulations or a drop in popularity compared to their sales peak earlier on in their lives.
Let's take a quick look at eight automobiles about to ride into the sunset.
01. 2011 Mazda RX-8
The 2011 Mazda RX-8 has always been an outlier in the sport coupe world. The Mazda RX-8 enjoys sleek looks and an extremely well-balanced, lightweight chassis, but it also comes with an extra set of hidden rear doors in order to provide easy access to a very usable rear seat. Further setting the RX-8 apart is its 1.3-liter rotary engine, a high-revving unit that unleashes 232 horsepower (when matched with a six-speed manual transmission) and 152 lb-ft of torque. A six-speed automatic unit is also available with the coupe (erasing 20 horses from the engine's output), and although not a speed demon the Mazda's nimble handling prowess will be missed by track fans across the country.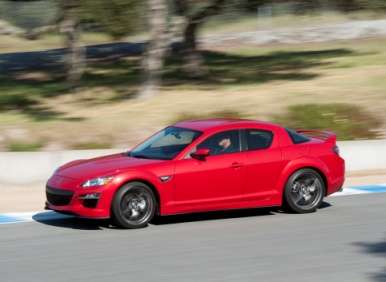 02. 2011 Cadillac STS
The 2011 Cadillac STS is a full-size luxury sedan that offers a bulked-up version of the Cadillac CTS "art and science" design language. The most recent - and final - edition of the Cadillac STS is sold exclusively with a V-6 engine, a 3.6-liter unit that generates 302 horsepower and 272 lb-ft of torque while putting up fuel economy numbers of 18 mpg city and 27 mpg highway. All-wheel drive is available with the STS, and a six-speed automatic transmission is standard. The Cadillac sedan can be had with a number of high end features, including HID headlights, heated leather seats, wood trim and advanced safety equipment, but it is destined to be replaced by the upcoming Cadillac XTS.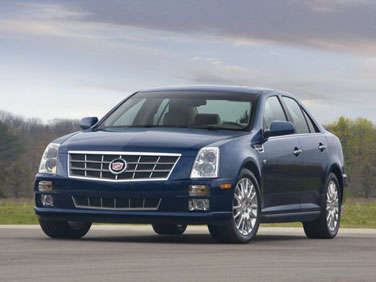 03. 2011 Buick Lucerne
The 2011 Buick Lucerne is a reminder of how a luxury car used to be built in Detroit. The big and roomy Buick Lucerne provides six passenger seating, a comfortable ride and driving dynamics that lean more towards the floaty side of the spectrum. The full-size sedan does offer many of the features that premium car buyers expect (especially when it comes to convenience and safety), but the Lucerne has become a victim of Buick's turn towards sportier, more Euro-inspired designs. The automobile's drivetrain choices include a 3.9-liter V-6 (227 horsepower and 237 lb-ft of torque) and a 4.6-liter V-8 (292 ponies and 288 lb-ft of twist), each of which are matched with a four-speed auto gearbox. The V-6 pulls ahead in the efficiency race with fuel mileage numbers of 17 mpg city and 27 mpg highway.
04. 2011 Mazda Tribute
The 2011 Mazda Tribute finds itself at the end of its lifespan through no fault of its own - the Ford Escape compact SUV with which is shares its platform is itself destined to be replaced by an all-new model in the near future. This has doomed the most truck-like of Mazda's offerings, even though it remains appealing to some family shoppers thanks to its five passenger seating and available 67.2 cubic feet of cargo space. Fortunately, the 2013 Mazda CX-5 will fill this small crossover void in Mazda's line-up when it goes on sale early next year.
The 2011 Mazda Tribute starts out with a 171 horsepower, 2.5-liter, four-cylinder engine under the hood. Also good for 171 lb-ft of torque, this motor returns fuel economy of 22 mpg around town and 28 mpg on the highway. Buyers can choose to upgrade to a 3.0-liter V-6 that churns out 240 horses and 233 lb-ft of torque, although fuel mileage drops by three miles per gallon for each respective measure when this option is selected. All-wheel drive is available with the Tribute, and transmission choices include a mix of five-speed manual and six-speed automatic units.
05. 2011 Cadillac DTS
The 2011 Cadillac DTS is another throwback luxury sedan, one which represents the domestic automaker's last link to its glorious land yacht past. The Cadillac DTS can be equipped with a front bench seat to expand its passenger capacity to six, and its suspension system has been tuned to numb occupants to the effects of rough pavement. The DTS also makes available features such as three zones of automatic climate control, heated and ventilated leather seats and a heated steering wheel, as well as adaptive cruise control and a blind spot warning system. Like the STS, this full-size Cadillac cruiser is stepping aside to make room for the upcoming Cadillac XTS sedan.
The 2011 Cadillac DTS is equipped with a 4.6-liter V-8 engine that generates 275 horsepower and 295 lb-ft of torque in most versions of the automobile. The Platinum trim boosts the eight-cylinder motor to 292 ponies but lowers torque to 288 lb-ft. A four-speed automatic transmission is standard, and fuel mileage shows as 15 mpg city and 23 mpg highway.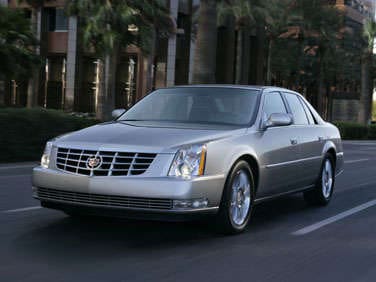 06. 2011 Ford Ranger
The Ford Ranger has been the quintessential compact pickup truck since its introduction back in 1983, but after almost 30 years on the market, Ford has phased the Ranger out. Ford's ultimate reason for dropping the Ranger was the fact that sales have been on a steep and steady decline over the last decade with only 64,114 sold so far through 2011 compared to around 300,000 in 2001. Ironically, this year could very well be the Ranger's best sales year since 2006. The final Ford Ranger rolled off the assembly line last month, and it doesn't seem like Ford will re-enter the compact pickup truck market again any time soon.
The Ranger is powered by either a 2.3-liter inline-four or a 4.0-liter V-6. Ford says that its expected replacement for the Ranger will be the Ford F-150 equipped with the automaker's more fuel-efficient engines, but it is hard to overlook the fact that the 2011 Ranger started at $18,160 while the base 2012 F-150 starts at $22,990.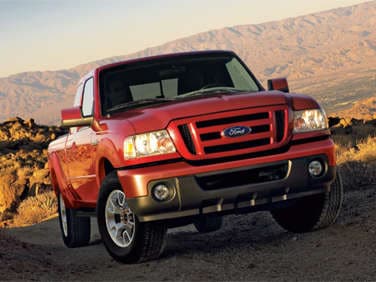 07. 2011 Honda Element
The 2011 Honda Element has always been seen as a practical compact crossover option for drivers with an active lifestyle, especially pet owners or outdoor sports fans who enjoyed the vehicle's easy-to-clean interior, wide doors and removable rear seats. Unfortunately, the Honda Element never received any additional development since it was first introduced in 2003, and as such it is no longer as competitive in terms of fuel economy or features with other small crossovers.
The 2011 Honda Element comes exclusively with a 2.4-liter, 166 horsepower four-cylinder engine that also puts out 161 lb-ft of torque. A five-speed automatic transmission sends that output to either the vehicle's front wheels or all four wheels (if optional all-wheel drive is selected), and fuel mileage for the crossover checks in at 20 mpg city and 25 mpg highway.
08. 2011 Volvo V50
The 2011 Volvo V50 is a competent compact wagon that provides a premium ride and good utility thanks to its 63 cubic feet of total cargo space. Despite this, the Volvo V50 has fallen victim to the Swedish brand's decision to abandon the wagon market in the United States, with the compact family vehicle heading back home to Europe in the same manner as the larger V70 shortly before.
The 2011 Volvo V50 is motivated by a 2.5-liter, five-cylinder engine that makes use of a turbocharger to push out 227 horsepower and 236 lb-ft of torque. A five-speed automatic handles the shifting duties for the V50, and fuel mileage for the wagon is rated at 21 mpg in stop and go driving and 30 mpg during highway cruising.