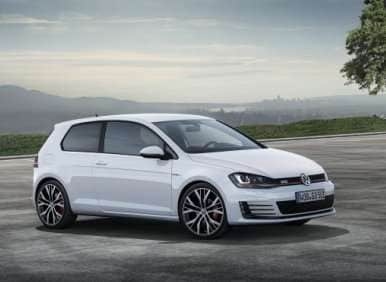 Volkswagen's 2014 VW Golf—already launched in Europe as a 2013 model—was named the European Car of the Year just prior to the recent opening of the International Geneva Motor Show—and the company is continuing to build on that success at the show itself.
Highlighting the Volkswagen exhibit in Geneva are both new variants of the award-winning Golf as well as a pair of vehicles that will set some fresh milestones in terms of fuel efficiency, albeit in different ways. Of course, not all of VW's Swiss debuts will necessarily reach the U.S. market, but they do all provide a nice reminder of Volkswagen's particularly high profile in the global auto industry. And if you need further evidence, you can also note that this actually was the second time the Golf has scored European Car of the Year honors; it also did so in 1992.
About this year's victory, Prof. Dr. Martin Winterkorn, chairman of the Board of Management of the Volkswagen AG, said: "That's a superb result, and we are very proud of it. This most significant European award is the perfect final touch to the list of prizes we've already won. Over 29 million customers have made the Golf into the icon that it is. The Golf will continue this success story." 
Geneva Motor Show: 2014 VW Golf—and Friends
Now, we've already provided some details on the latest hi-po version of the Golf here: http://www.autobytel.com/volkswagen/gti/news/volkswagen-fires-up-2014-vw-gti-in-geneva-115643/, and there will no doubt be more in-depth details about the 2014 VW Golf proper as we get closer to its U.S. launch. But there were two more entries in the ol' Golf bag at Geneva that American drivers should watch out for: The VW Golf GTD and VW Golf Variant (yep, that's the name of the vehicle, at least for now).
The former is essentially a hot-hatch diesel that relies on a 2.0-liter TDI engine for power. In this case, 184 horses worth and 280 lb.-ft. of torque, which combine to enable a top speed of 143 mpg and a 0-60 time of under 7.5 seconds. As you'd expect, Volkswagen engineers also deploy performance enhancers like a lowered sport suspension, 17-inch wheels and an aero body kit with side skirts, a rear diffuser and a rooftop spoiler. The VW Golf GTD hasn't been officially approved for U.S. drivers at this point, but given the growing demand for VW's other diesel entrants—as well as the car's Euro-spec fuel economy of 56 mpg combined—an American version has to be considered highly likely.
The same also can be said for the 2014 VW Golf Variant. Only don't look for that awkward moniker to make it here. "Variant" is Volkswagen-speak for "station wagon," and the vehicle shown in Geneva almost certainly previews the next-gen VW Jetta SportWagen for U.S. drivers. Roomier yet lighter than the current version, the new car also will be the most fuel-efficient VW wagon ever. Of course, don't count on seeing the car's most frugal engine, a 110-hp clean-diesel I4, at U.S. Volkswagen dealerships.
Also worth pointing out: Volkswagen claims a model powered by compressed natural gas is "in the pipeline, too."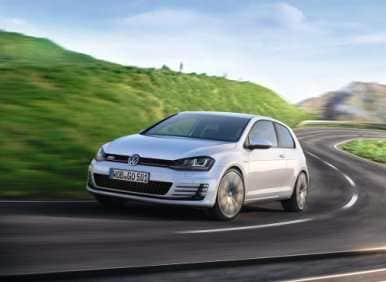 Geneva Motor Show: Volkswagen XL1 Recap
When Volkswagen announced it would produce the hyper-efficient VW XL1 for retail customers, Autobytel couldn't wait for the car's first public appearance to start spreading the news, and the result can be found here: http://www.autobytel.com/volkswagen/news/volkswagen-vw-xl1-headed-for-production-at-261-mpg-115560/.
Unfortunately, VW hasn't provided much more in the way of details at this stage, and that's even though the XL1 has now taken the stage. Unconfirmed Internet chatter does indicate that Volkswagen will "hand-craft" 50 units for at least one production run, with pricing expected to be in the six-figure range. Just remember, that kind of supercar MSRP will deliver super EPA ratings, too: The VW XL1 will be the most aerodynamic and fuel-efficient production vehicle in the world when it launches, with the ability to travel more than 260 miles on a single gallon of gas (in European testing).
An advanced diesel-hybrid powertrain will drive the VW XL1, relying on a two-cylinder, 47-hp TDI engine with just one liter of displacement, along with a 27-hp electric motor, lithium-ion battery technology, and plug-in capabilities. Thanks to the latter feature, owners also will enjoy an all-electric, zero-emissions driving range of more than 30 miles.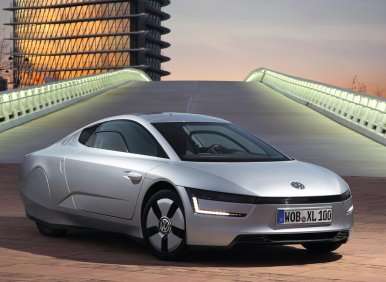 Geneva Motor Show: Volkswagen Cross Up!
The VW Cross Up! (exclamation point included!) is a restyled version of the Volkswagen Up! that brings one of the brand's SUV-lite appearance packages to the mini-car segment. Needless to say, with the Cross Up! giving up five inches in length as compared to the 2013 Chevy Spark, and getting fitted with a 1.0-liter, 74-hp engine, there are no plans to bring it to the States. But it does show an interesting strategy on Volkswagen's part that would probably do very well here.
While plenty of automakers—VW included—use some minor body mods and content upgrades to develop sportier-looking vehicles without sportier performance, Volkswagen uses the same strategy to attract volks who want an added dose of rugged, SUV-ish styling, but without having to pay for significant hardware improvements. Thus, the Cross Up! adds features like black wheel-arch moldings, silver roof rails, silver-accented bumpers, exclusive 16-inch alloy wheels and even some added ride height.
There does happen to be a European VW CrossGolf, however, and that might be a nice fit for U.S. customers once the next-gen version of the Golf itself lands on our shores.