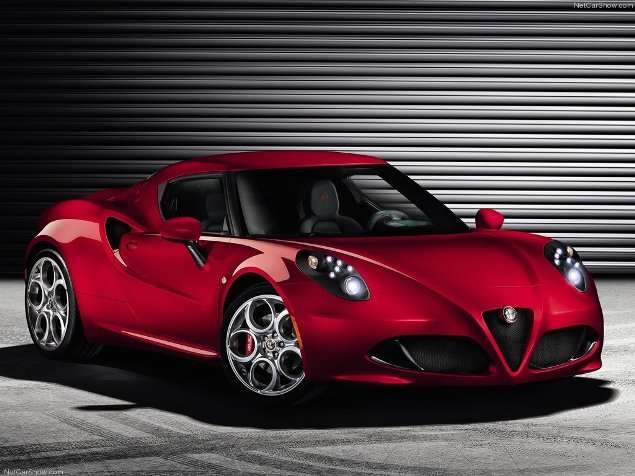 Rumors of the return of the Alfa Romeo brand to the U.S. began almost from the first day of the Fiat/Chrysler marriage, and that outcome edged a little closer to reality recently when the production-spec 2014 Alfa Romeo 4C had its public premiere at the International Geneva Motor Show in Switzerland.
If all goes according to plan, the 4C will arrive in this country near the end of the year with a curvaceous exterior, a lightweight carbon-fiber chassis and a mid-engine/rear-wheel-drive layout—all engineered into one surprisingly tidy package. Consider: Something like the Ferrari 458 Italia is roughly the length of a compact sedan, but the 2014 Alfa Romeo 4C will be under 157 inches, making it shorter than a Honda Fit.
The coupe's nimble proportions, backed by a curb weight of under 1,875 lbs., allows it to rely on a small turbocharged I4 engine that boosts 1.75 liters into some 240 hp (according to the 4C's online configurator). As a result, drivers can expect supercar-style acceleration and a 0-60 time of under 4.5 seconds. Another benefit: Although Alfa didn't mention EPA ratings, the 4C's combination of turbo power, compact size and advanced twin-clutch automatic transmission should deliver relatively strong marks.
(And note: Although it was engineered by Alfa, the 2014 Alfa Romeo 4C will be built at Maserati's plant in Modena, Italy—the latter company also being part of the Fiat empire.
The party line: The 2014 Alfa Romeo 4C "represents the true essence of a sports car, embodying the authentic values of the brand: Italian style, performance, and technical excellence, offering maximum driving satisfaction in total safety."