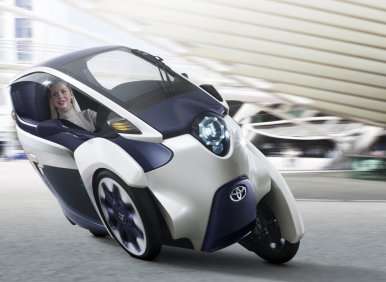 Ever seen a sci-fi flick where denizens of some futuristic metropolis are cruising around in pod-like transportation modules? Of course you have. Perhaps a 1960s-era cartoon, even. Evidently, Toyota thinks this vision of the future should become a reality, and the automaker introduced its i-ROAD Personal Mobility Vehicle at the 2013 Geneva Motor Show.
We weren't there for the debut. And the press release about the, umm, PMV doesn't employ the word "concept" anywhere in the text, so it would appear that the i-ROAD is going to be available to consumers. In Europe, anyway.
So what is a Toyota i-ROAD? Think of a 3-wheeled Segway with seats. Or a Smart ForTwo Electric measuring no wider than a Harley Davidson. Or a Can-Am Spyder that can squirt through traffic during rush hour. The Toyota i-ROAD is an electric vehicle, equipped with 2-passenger tandem seating, offered with optional enclosed bodywork, and is about as wide as a typical motorcycle. The result, according to Toyota, is a vehicle designed for urban use that offers "all the enjoyment of 2-wheeler riding without the need for the driver to stabilize the vehicle himself during slow speed maneuvers, or when stationary."
The key to the Toyota i-ROAD is its Active Lean technology. We'll let Toyota explain: "A lean actuator motor mounted above the front suspension member [is] linked via a yoke to the right and left front wheels." The system "calculates the required lean based on steering angle, gyro-sensor, and vehicle speed information. And the system also automatically moves the wheels up and down in opposite directions, applying lean angle to counteract the centrifugal force of cornering."
Because the Toyota i-ROAD is so narrow, and thanks to a turning circle of 3 meters, the PMV provides urban mobility similar to a motorcycle, and is easier to park. Toyota says a total of 4 i-ROAD models can be parked in a single parking space. Open and enclosed cabin designs are offered, the latter including interior lighting, a heater, Bluetooth connectivity, and an audio system.
A pair of 2-kW electric motors powers the i-ROAD, mounted in the front wheels and drawing electricity from a lithium-ion battery pack that can be recharged in 3 hours. Toyota claims a driving range of 50 kilometers. That's the equivalent of 31.1 miles.
Would something like the Toyota i-ROAD work in America? Perhaps in the most densely populated areas with the most expensive parking rates. But given the average level of talent demonstrated by drivers in the U.S., going without a helmet in a futuristic transportation pod like the i-ROAD would require the same level of confidence as riding a motorcycle, if not quite the same level of skill.