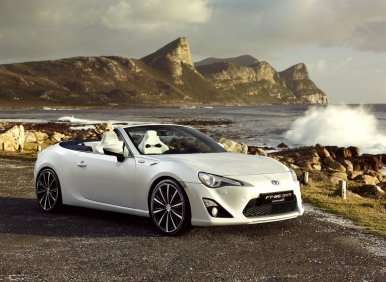 One of our favorite cars-with-a-shot-at-production from the 2013 Geneva Motor Show is this comparatively humble Toyota FT-86 Open Concept, a 2+2 convertible version of the Toyota GT-86, which is sold in North America as the Scion FR-S and Subaru BRZ.
Why is this one of our favorites? We're big fans of the MX-5 Miata around here, and while the Mazda remains a brilliant and pure sports car, a little variety in the affordable roadster segment couldn't hurt. Since the Scion/Subaru twins are excellent sports cars in their own right, adding a little fresh air to the festivities can only heighten the experience.
As for the Toyota FT-86 Open Concept displayed in Geneva, the automaker says that the GT-86/FR-S/BRZ trifecta was designed from the start to eventually be offered as a convertible, and that any future production version would be "weight-neutral" while providing an even lower center of gravity compared to the existing coupe models. The top is a multi-layer fabric roof with a glass rear window, likely manually operated rather than power operated to help save weight.
A convertible model would share the coupe's running gear, including its 200-horsepower, Subaru-sourced 2.0-liter boxer engine. Transmission choices would likely include the existing 6-speed manual gearbox or 6-speed automatic transmission, as well as the current MacPherson strut front and double wishbone rear suspension. Existing coupe models also have electric steering and 4-wheel-disc ventilated brakes.
Toyota's Geneva concept was dressed by Toyota Boshuku Milan Design, which used a white, blue, and yellow color scheme to finish the FT-86 Open Concept, giving the sports car a summery look and feel that reminds us just a little bit too much of a Mercury Villager Nautica minivan. If, or should we say when, a Scion FR-S Convertible or Subaru BRZ Convertible show up at a dealership near you, it won't look nearly this fancy. And that's a good thing.