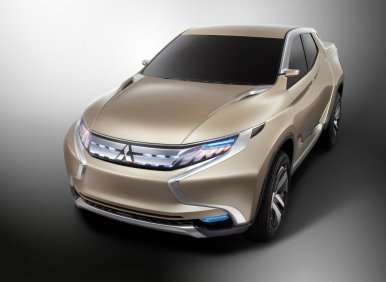 Mitsubishi is down, but not out. Yet. Especially on the global stage. While company executives insist the automaker is committed to the U.S. market, industry analysts wonder how long the company can survive on its dramatically reduced vehicle lineup. Perhaps something like the Mitsubishi Concept GR-HEV – we like to call it the Grrr Hev – will help turn things around.
The Concept GR-HEV debuted at the 2013 Geneva Motor Show, a 4-door sport utility truck that could be positioned to satisfy an increasingly unmet need for compact pickups in America. It would not appear, however, that Mitsubishi is thinking along the same lines, citing that this kind of vehicle is popular in emerging economies. With the Dow Jones soaring to new records, the U.S. is not quite in the "emerging economy" category.
In any case, the Mitsubishi Concept GR-HEV is a one-ton pickup, a hybrid electric vehicle combining a 2.5-liter clean-diesel 4-cylinder engine with an electric motor and a battery pack. A next-generation 4-wheel-drive system is included, employing Super Select 4WD from the Pajero SUV and Super All-Wheel Control (S-AWC).
Will the Concept GR-HEV be built? Maybe. Will it be sold to Americans? Probably not, which would be a shame because this is exactly the kind of segment-busting vehicle the automaker needs to re-establish itself in the U.S. market. Grrr.