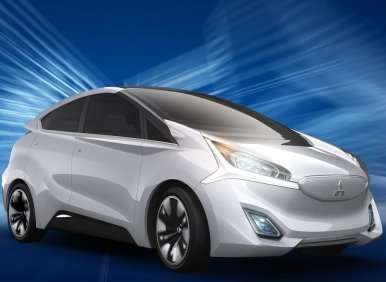 Bluntly put, the Mitsubishi i-MiEV hasn't become the game-changer the automaker was hoping it would. Though reasonably priced and equipped with enough range to satisfy the typical 9-to-5 commuter, the 4-passenger i-MiEV has struggled to find acceptance with American consumers who don't view the tall, narrow electric vehicle as competitive against models like the Nissan Leaf.
The Mitsubishi Concept CA-MiEV, the automaker says, "gives an indication of the shape…EVs will take in the near future." The 5-door hatchback is packed with next-generation EV technology, including an All-in-One integrated drive unit, a flat and compact 28 kWh lithium-ion battery, and a magnetic resonance wireless charging system. Mitsubishi says a production version of this car would provide 186 miles of electric range between re-charges.
Combine this impressive range with bodywork that looks more like a regular car, and the Concept CA-MiEV could find a larger cadre of fans than the existing i-MiEV. Unfortunately, Mitsubishi says it doesn't plan to build a production version of the CA-MiEV. Rather, the company characterizes it as a "declaration of intent," meaning the technology points to what's in store for the future.