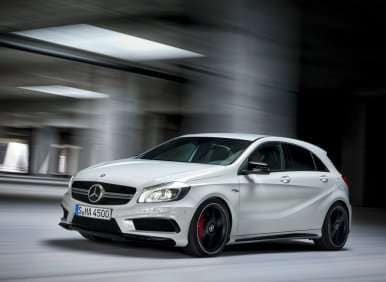 For U.S. customers, the best way to think of the new Mercedes-Benz A 45 AMG—which debuted at the recent Geneva Motor Show in Switzerland—is to consider it sort of a hatchback version of the upcoming M-B CLA premium compact sedan—but one that's gotten the full treatment from the automaker's AMG performance-engineering partners.
Notably, that includes AMG's hand-built, turbocharged 2.0-liter I4 engine, which makes 360 hp and 450 lb.-ft. of torque—and is the most powerful four-cylinder production engine in the world. But this being 2013, the engine is highly efficient as well. According to the brand, the Mercedes-Benz A 45 AMG can achieve a best-in-class 34 mpg in European fuel-economy testing. Also, while the 2014 Mercedes-Benz CLA is a front-wheel-drive affair, AMG has deployed its 4MATIC all-wheel-drive system on the A 45.
Drivers then manage that power through an AMG-designed seven-speed dual-clutch automatic transmission that borrows technology from the SLS AMG GT supercar and provides three drive modes, manual-shifting functionality and even launch control. Backed by these powertrain advantages, the Mercedes-Benz A 45 AMG can reach an electronically limited top speed of 250 kph (+155 mph) and sprint from 0-100 kph (62 mph) in 4.6 seconds.
Performance-wise, that's a bit quicker than something like the 2013 Subaru WRX STI Special Edition—currently the hottest AWD hot-hatch in the U.S.—but with a whole lot more premium Mercedes-ness baked into the AMG vehicle.
Now, the Mercedes-Benz A 45 AMG won't be showing up at local M-B dealerships anytime soon, but if the CLA sedan is a success—and premium hatchback entries like the Audi A3 and Lexus CT200h are able to continue laying the groundwork for the segment—a case could be made for bring it over here.