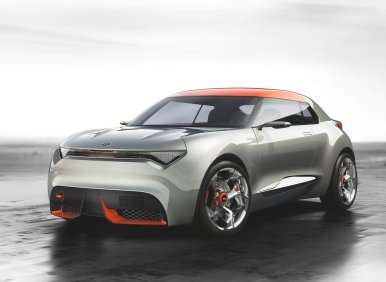 The Kia Provo Concept that debuted at the 2013 Geneva Motor Show is a compelling piece of work. A small, 3-door, hot hatch equipped with the same 201-horsepower, turbocharged and direct-injected 1.6-liter 4-cylinder engine that's installed in the Hyundai Veloster Turbo, the Kia Provo Concept is actually a hybrid model equipped with a 44-horsepower electric assist motor that powers the rear wheels. Go easy on the gas, and the Provo Concept putters around a parking lot on electricity alone. Stomp on the throttle, and the electric assist motor creates an all-wheel-drive effect. A new 7-speed Dual Clutch Transmission manages power delivery, and includes shifter paddles.
As SNL cast member Vanessa Bayer might drawl on her Miley Cyrus Show parody: "That sounds pretty cool."
Indeed, it does sound pretty cool. Until you find out that Kia is on the fence about production, and insists the Kia Provo Concept is designed for "European tastes and conditions."
Say what, now?
Around here, we think the Kia Provo would look swell on U.S. roads, a stylish and playful foil to the oh-so-serious Volkswagen GTI, especially if Kia could retain the floating, contrast-color roof panel. The concept car's 19-inch milled alloy wheels wouldn't make the cut, but the right set of chunky 5-spoke 18-inch rims would still fill out the wheel wells enough that the blistered fenders wouldn't look fat instead of flashy.
Even the Kia Provo Concept's interior isn't that far-fetched. The carbon fiber dashboard isn't feasible for production, and the premium materials found inside this show car – quilted leather and polished aluminum – would need to swapped out for mass-market stuff to meet a lower price point. Kia would also need to ditch the fixed front seats and power-adjustable pedals for seats that slide fore and aft, but that's not a big deal. Even the new Multi-Media Interface, which is used to switch the center infotainment screen between Normal, Cruise, Track, and Entertainment displays, is a technology likely to arrive in future Kia models.
Clearly, we stand in favor of a production Kia Provo. At the very least, Kia, add a couple of rear doors and some extra wheelbase, and deliver this to America as the next-generation Soul.
Now that would be pretty cool.