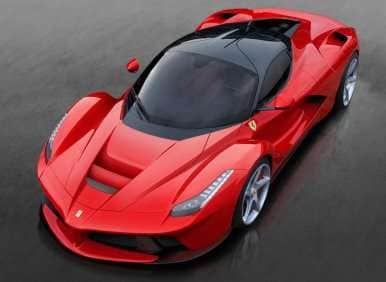 The new Golden Age of Supercars has gotten even super-er now that the Prancing Horse has unstabled its quickest production vehicle ever:  The Ferrari LaFerrari. But while the automaker doesn't appear to have wasted much development time in coming up with the car's name, it's clear that Ferrari's engineers and designers stayed plenty busy.
For example, the LaFerrari's powertrain premieres the performance-enhancing KERS hybrid technology used in Ferrari's F1 racers to produce a total of roughly 950 hp—about 790 from its 6.2-liter V12 engine and 160 from its hi-po electric motor. When combined with LaFerrari's 663 lb.-ft. of torque and seven-speed dual-clutch transmission, the tale of the tape includes:
Top speed—217 mph
0-62 mph—under 3 seconds
0-124 mph—under 7 seconds
0-186 mph—15 seconds
(Note: If those sprint speeds seem odd, it's because they've been translated from their Ferrari-provided metric equivalents of 100, 200 and 300 kilometers per hour.)
Another technical breakthrough showcased by the Ferrari LaFerrari is its active aerodynamics, which, like the car's hybrid system, are managed by advanced dynamics-control technology to ensure optimum performance across a wide variety of road conditions and driving styles. Thus, on the automaker's own Fiorano test track, the all-new LaFerrari covered the circuit's 1.86 miles of challenging blacktop in just 1 minute, 20 seconds; that's 5 seconds faster than the iconic Enzo Ferrari and 3 seconds faster than even the Ferarri F12berlinetta.
And as far as its appearance goes, let's just say that LaFerrari's sculpted, multi-dimensional body is as wild as its performance numbers.
Production of the Ferrari LaFerrari will be limited to 499 units.
"Aimed at our collectors, this is a truly extraordinary car which encompasses advanced solutions that, in the future, will find their way onto the rest of the range, and it represents the benchmark for the entire automotive industry," said Luca di Montezemolo, president of Ferrari. "LaFerrari is the finest expression of our company's unique, unparalleled engineering and design know-how, including that acquired in Formula 1."