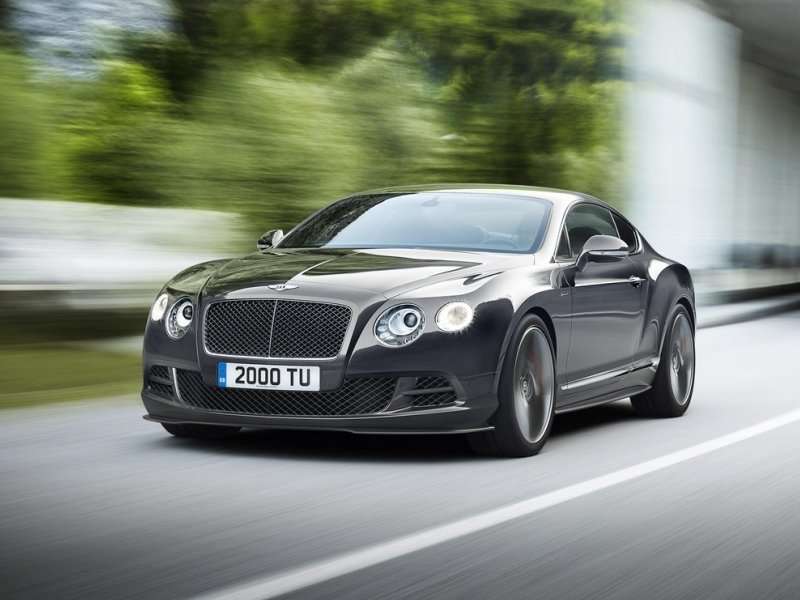 After the introduction of the new Flying Spur last year, you might expect Bentley to take a year off from showing anything new. But that isn't the case as the British luxury automaker is planning two reveals at next month's Geneva Motor Show.
First, is an improved Continental GT Speed. Previously, the model produced 616 horsepower and 590 pound-feet of torque from a 6.0L W12 engine. It could reach a top speed of 205 MPH. Now, for the 2015 model year, Bentley has massaged the W12 engine to produce 626 horsepower and 605 pound-feet of torque. That means the Continental GT Speed can hit 60 mph in 4 seconds and reach a top speed of 206 mph. The Continental GT Speed Convertible reaches a modest top speed of 203 mph.
Aside from the increase in performance, the 2015 Continental GT Speed gets a number of visual changes including the front splitter, side skirts, and rear diffuser painted to match to exterior color of the vehicle; darkened twenty-one inch wheels, and brake calipers painted in red.
The other showing is the 2015 Flying Spur V8. It gets the 4.0L twin-turbo V8 engine found in the Continental GT V8. Much like the GT V8, the Flying Spur V8 makes 500 horsepower and 487 pound-feet of torque. This is paired with an eight-speed ZF automatic and an all-wheel drive system. Bentley says the Flying Spur V8 can reach 60 MPH in 4.9 seconds and reach a top speed of 183 mph. The automaker also claims a 520-mile cruising range in the V8 thanks to a small displacement engine and fuel saving tech like cylinder deactivation.
The Flying Spur V8 has a few exterior changes to differentiate it from the Flying Spur W12. There is red badging to indicate that it is a V8 model, 'figure-eight' exhaust tips, and new grille inserts for the front bumper.
Both Bentley models go on sale this spring.