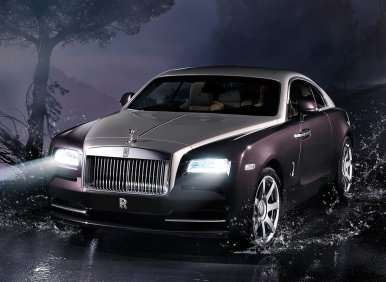 If you live south of the 40th parallel, you might be excused for hearing the name of this new ultra-exclusive Roller and thinking it was some kind of holiday-themed special edition model. That's not the case. Neither is the new 2014 Rolls-Royce Wraith "something shadowy and insubstantial," as the American Heritage Dictionary defines the word. Rather, the name Wraith pertains to a new 4-seat grand touring coupe based on the same platform that underpins the Ghost sedan.
Debuting at the 2013 Geneva Motor Show complete with dramatic fastback styling, a 2-tone paint job, and reverse-opening coach-style doors, the 2014 Rolls-Royce Wraith is, according to the automaker, the most powerful model it has ever produced. The 2014 Wraith has a 624-horsepower V-12 engine installed under its hood, one capable of generating 590 lb.-ft. of torque starting at just 1,500 rpm. Rolls-Royce claims the 2014 Wraith accelerates to 60 mph in 4.4 seconds, considerably quick given the Wraith's curb weight surely approaches 2.75 tons.
In addition to the muscular motor, the new Rolls-Royce Wraith is equipped with a Satellite Aided Transmission (SAT) with eight forward speeds. The SAT considers the driver's current driving style and matches that up with GPS mapping data to pre-select the proper gear for the terrain ahead. Speed-variable steering and a suspension designed to minimize body roll and amplify feel are also included in the new Wraith, but Rolls-Royce assures its clientele that "absolutely no compromise to the sensation of riding on a bed of air," also known as "waftability," is made due to the changes.
Inside, the 2014 Wraith promises a "sumptuous, contemporary, yacht-like interior" swathed in Canadel Panelling and Phantom-grade leather. Voice-activated 'on-board valet' technology facilitates hands-free communication and navigation programming, and an updated Spirit of Ecstasy Rotary Controller includes a touchpad offering handwriting recognition capability and pinch/pull response similar to a smartphone.
As an option, the new Rolls-Royce Wraith is offered with a Starlight Headliner, a feature formerly reserved for the Phantom models. The Starlight Headliner employs 1,340 fiber-optic lights hand-woven into the car's headliner to mimic the appearance of a starry night sky. Yeah. Hand-woven.
Rolls-Royce says the new 2014 Wraith is characterized by "power, style, and drama, with just a hint of the noir" and delivers "the most powerful, involving driving experience of any Rolls-Royce in history." A select few moneyed buyers will get to find out if that's true starting in the last quarter of 2013.