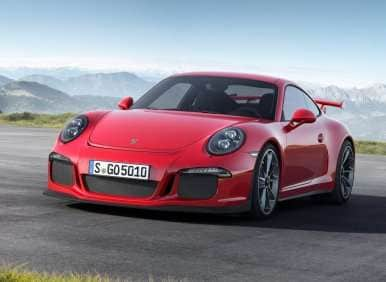 Since the debut of the redesigned seventh-generation 2012 Porsche 911, the automaker has steadily introduced new variants of the iconic sports car, the latest being the 2014 Porsche 911 GT3 at the 2013 Geneva Motor Show.
There's no mistaking the new 2014 911 GT3 for any other model in the lineup. From its flared haunches and enormous fixed rear wing to its restyled front and rear fascias and standard 20-inch forged aluminum wheels with locking center hubs, the new 2014 Porsche 911 GT3 is unmistakably the most powerful, normally aspirated version of the lineup.
Tucked under the GT3's rear wing, sitting aft of the rear axle, a 3.8-liter, 6-cylinder, boxer-type engine produces 475 horsepower and revs all the way to 9,000 rpm. While the GT3's engine is based on the same power plant installed in other 911 models, Porsche says that most internal components are replaced, including the titanium connecting rods, forged pistons, special valve gear, and performance-optimized crankshaft. Dynamic engine mounts are standard equipment.
The only transmission is the Porsche Doppelkupplungsgetriebe (PDK) automated manual dual-clutch gearbox, but fret not performance driving purists. While there's no clutch pedal, this version of the PDK is based on a racing-spec transmission and provides shorter gear ratios, quicker shifts, and paddles with improved response and feel. Naturally, the PDK powers the new 911 GT3's rear wheels through a standard electronic rear differential lock.
If you're primarily interested in 2014 Porsche 911 GT3 performance statistics, the automaker says the new 911 GT3 accelerates from zero to 60 mph in 3.3 seconds, hits 124 mph in 12 seconds, and has a top speed of 195 mph. Porsche test drivers have lapped the Nurburgring Nordschleife in 7.5 minutes; evidently, that's fast enough to warrant a bragging point shared by the company's PR department.
Two new "firsts" debut with the new 2014 911 GT3. The first of the "firsts" is an active rear-wheel steering system that helps to make the car more maneuverable at low speeds and to make the car more stable at high speeds. The second "first" is the option of full LED headlights.
More details about the redesigned 2014 Porsche 911 GT3 will be available closer to the car's on-sale date. Porsche has, however, set the price: $131,350 including the destination charge. That's the same cost as 80,091 laps at our local indoor karting track. Something tells us owning the GT3 would be more fun.